Tenderloin Housing Clinic members are on a roll and just won a huge retro pay agreement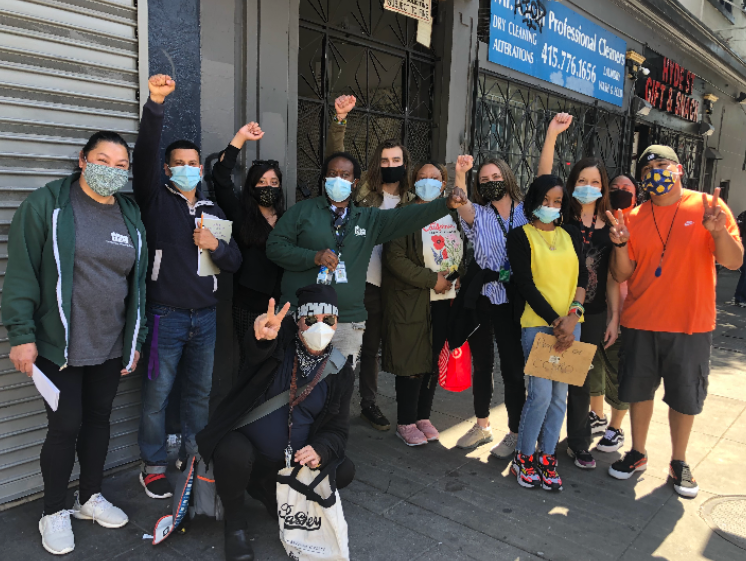 Claiming they didn't have the financial flexibility any longer, management at the Tenderloin Housing Clinic (THC) shamefully cut off hazard pay in July of 2020, even as our members continued to serve clients amidst the pandemic. THC members decided to fight back.
Knowing that THC's funding is tied to the City and County of San Francisco's budget, they began working with Supervisor Matt Haney's office on a solution. They took a delegation of about 15 workers to deliver a letter from Supervisor Haney's office supporting their fight to management, who agreed to bring back the $5 in hazard pay.
THC then said retro pay for the months workers continued serving clients without the hazard premium was out of the question, so members kept fighting. They circulated a petition calling on management to do the right thing and provide the retro pay, and were able to collect 160 signatures—and the pressure worked! Members secured close to $1 million in back pay, paid to all former and current employees at $5 for every hour worked between July 1, 2020 and March 6, 2021.
"We won because we came together and stayed strong. We came to meetings, we signed petitions, we met with Supervisor Haney, we marched into 126 Hyde. We earned this money risking our lives day in and day out and we finally have an acknowledgment of that risk," the THC union stewards said to their coworkers in an email after securing this huge victory. "Let's celebrate this win and look ahead to our contract negotiations. If we maintain this energy, we will win a better contract."