Tenderloin Housing Clinic members are on a roll and just won a huge retro pay agreement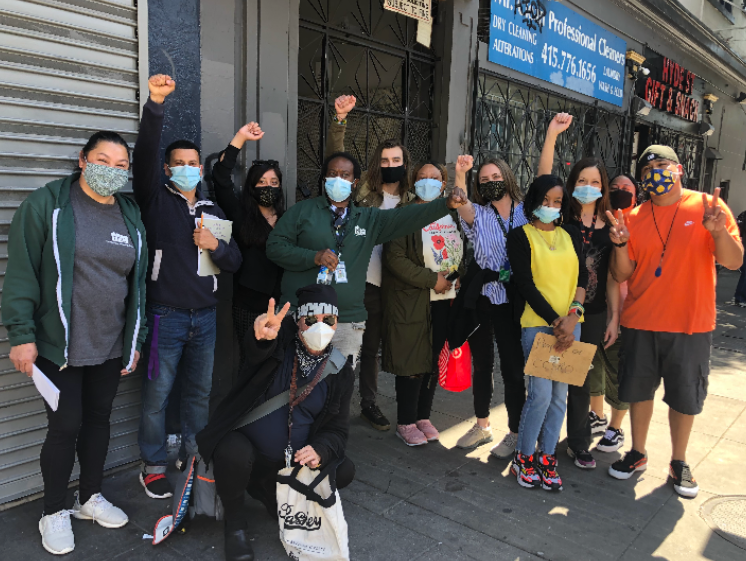 Last month, we shared how members at the Tenderloin Housing Clinic (THC) marched on their bosses to secure future hazard pay of $5 an hour as they continue to directly serve clients amidst the pandemic.
At that time, although they were able to press management into bringing back the hazard pay moving forward, whether or not workers would receive retroactive pay for the time management cut the additional pay was still an open question. Management had said they could not provide retro pay, but THC members weren't going to give up.
These members knew that acting as a strong, united front was going to be key to securing victory. They circulated a petition calling on management to do the right thing and provide the retro pay, and were able to collect 160 signatures—and they won close to $1 million in back pay for the period when management had eliminated their hazard pay. All current and former employees in HSH-funded positions will now receive $5 in retro pay for every hour worked between July 1, 2020 and March 6, 2021.
"We won because we came together and stayed strong. We came to meetings, we signed petitions, we met with Supervisor Haney, we marched into 126 Hyde. We earned this money risking our lives day in and day out and we finally have an acknowledgment of that risk," the THC union stewards said to their coworkers in an email after securing this huge victory. "Let's celebrate this win and look ahead to our contract negotiations. If we maintain this energy, we will win a better contract."
–
Want to read more stories from SEIU 1021 members in San Francisco? Check out our monthly newsletter at seiu1021.org/SFNews