Strikevember: Fast-food workers strike for better working conditions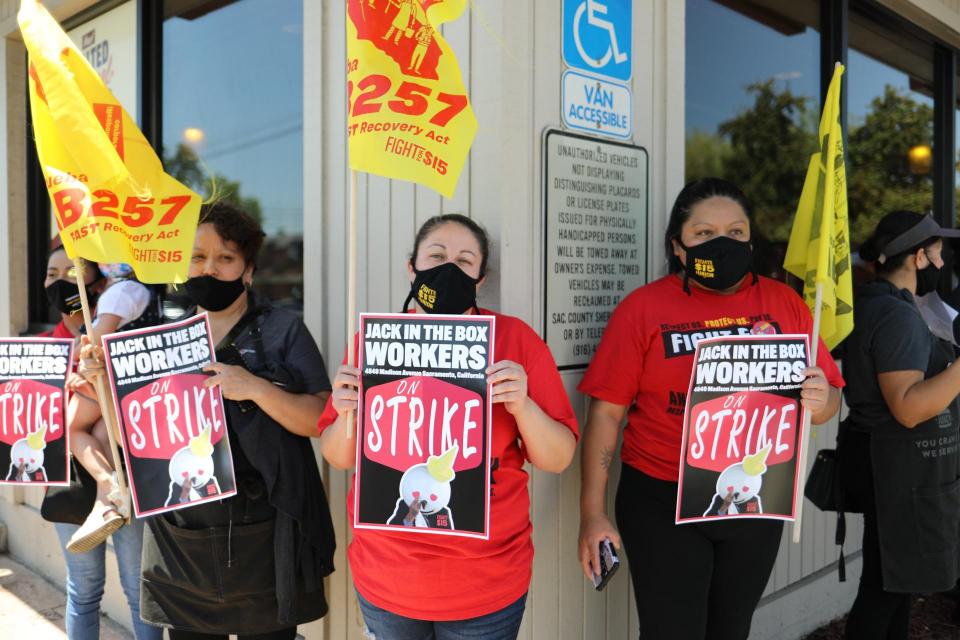 Striketober is about to turn into Strikevember as the Fight for $15 and a Union movement readies for a California-wide strike. Fast-food workers at stores across the Golden State plan to walk off the job on Tuesday, November 9, 2021, and rally outside fast-food restaurants in San Diego, Los Angeles, San Jose, Oakland, and Sacramento.
At each rally and protest, workers will ask Assembly members and Senators, "Which side are you on?" Are they on the side of essential fast-food workers or billion-dollar companies that have placed profits over workers for too long?
At the center of the fight is the passage of Assembly Bill 257, the Fast Food Accountability and Standards Recovery Act, or the FAST Recovery Act. In June, the bill fell two votes short of passing out of the California State Assembly. Fast-food workers are preparing for the return of AB 257 next January. The landmark piece of legislation would create a Fast Food Sector Council. The council would bring together workers, employers, public officials, and regulators to the same table to work together to improve conditions across the industry by setting "industry-wide minimum standards on wages, working hours, and other working conditions related to the health, safety, and welfare of, and supplying the necessary cost of proper living to, fast food restaurant workers, as well as effecting interagency coordination and prompt agency responses in this regard."
Join us on the picket line by signing up here.
Jennifer Esteen, a registered nurse and the Vice President of Organizing for SEIU Local 1021, speaks about the fight for workers' rights in a dominant sector of the service economy and the upcoming statewide strike:
"The COVID-19 pandemic has brought to the forefront the inequalities and downright injustice of our economic system. At the heart of that are the workplace health and safety conditions that the multiracial working-class face daily. After a year and a half of unprecedented fast-food worker activity, including nearly three-hundred strikes and protests across the state, fast-food workers in the Fight for $15 and a Union movement, SEIU Local 1021 members, and community allies continue fighting for the passage of AB 257, the FAST Recovery Act. Make no mistake. That fight is about power. Who has it? Who needs it? It's about asking the fundamental questions of the public officials who claim to represent our best interests: which side are you on? Are you going to stand with the workers who make your districts run and provide services under the most grueling working conditions or side with global corporations? Are you going to stand with a diverse coalition of racial, economic, and climate justice groups, faith-based organizations, advocates, and labor unions or with the bosses and corporate executives? Fast-food workers have dealt with every issue in the book: no allotted breaks, broken air conditioning units, a lack of proper personal protective equipment resorting to workers wearing coffee filters for masks, sexual harassment and assault from bosses, and more. We need legislation that provides fast-food-specific solutions to fast-food-specific problems. That legislation is AB 257. At a time when these corporations are making a profit during a global pandemic, we need to increase power and protections for frontline fast-food workers. Will you commit to joining fast-food workers on November 9?"