STRIKE AVERTED: Sac City USD workers reach 11th hour TA with management on health and safety standards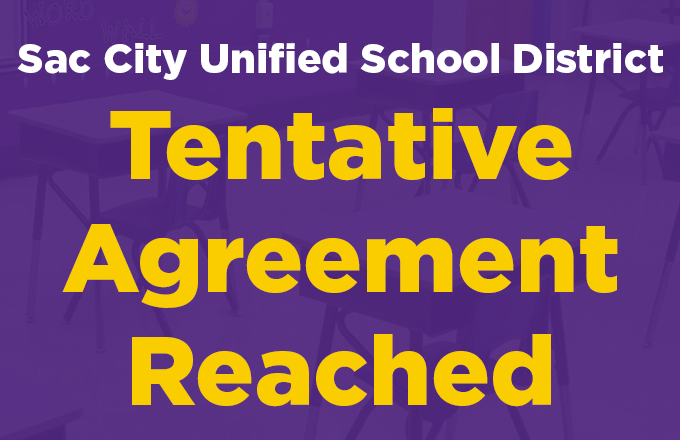 Classified workers at Sacramento City Unified School District (SCUSD) have been negotiating with Superintendent Aguilar and the District for months to reach a fair baseline health and safety agreement that will protect students, workers, and the entire school community.
Days before workers were set to participate in an Unfair Labor Practice, however, a marathon mediation session produced a tentative agreement between the two sides just before midnight on Monday, April 19.
As a result of this TA, the Unfair Labor Practice strike that had been scheduled for Thursday and Friday is now canceled.
SCUSD Chapter President Karla Faucett had the following to say:
"The absolute last thing any school worker wants to do is go on strike. Workers don't want to be walking a picket line over unfair labor practices, we want to be at work supporting the growth and development of Sacramento's next generation of leaders and residents. It was imperative to us that we be able to do that safely, though. We are so grateful to have secured an agreement over health and safety standards that will allow us to focus on what's most important: serving the families and children of Sacramento City USD and protecting the wellbeing of our entire campus community.
The new tentative agreement contains key provisions that were extremely important to SCUSD workers: fitted N95 masks for workers in close physical proximity to students, access to a catastrophic leave bank for workers who are ill due to side effects from the COVID vaccine, some allowances for school-based workers to bring their school-age children to work, special ventilation and filtration systems, and a robust testing schedule.
This tentative agreement with the District must now go before our full membership for a ratification vote in before it can go into effect. Our SEIU 1021 bargaining team is enthusiastically recommending a YES vote in support of ratification."