Stopping the Privatization of Public Housing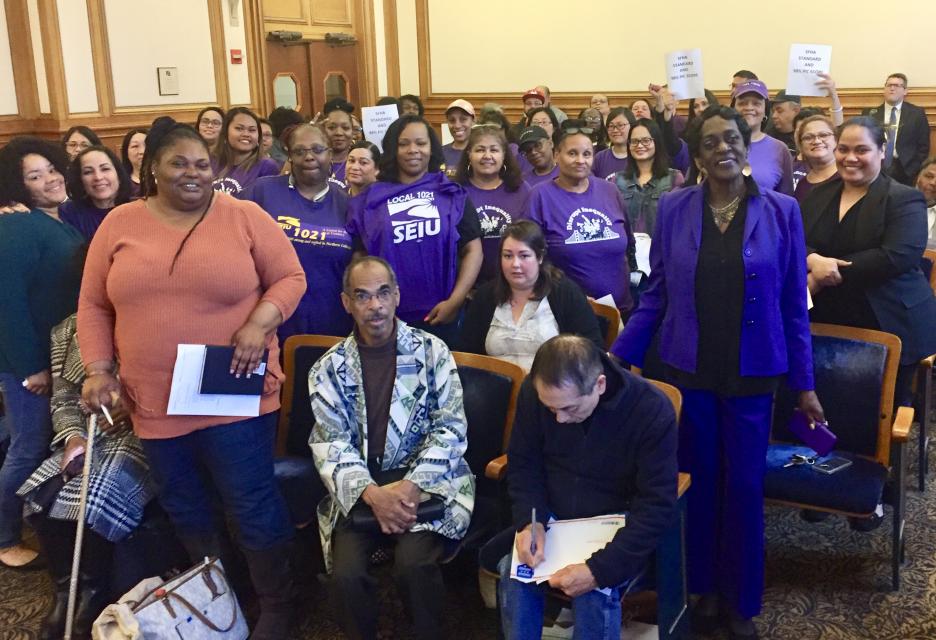 "We're more than workers of the Housing Authority. Many of us are former residents. This isn't just a job for us. It's our community. We owe it to the residents who are struggling to get by to fight for it," said Carol Homes who works as an eligibility worker at the San Francisco Housing Authority (SFHA) "Handing it over to some private organization isn't the answer."
Carol Holmes was among the more than 60 workers and residents who flooded the San Francisco Housing Authority's Board meeting to fight privatization. Workers say eliminating and outsourcing more than 200 jobs to an out-of-state for-profit company puts San Francisco's public housing agency at risk.
"We can't solve homelessness by turning to private developers or private organizations for solutions. They're motivated by bottom lines that aren't necessarily in the public's interest when housing the city's most vulnerable," said Harriet Wood, who works as a inspector at SFHA. "Mayor Breed has made it her a priority to stand up for affordable housing and preventing people from living in the streets, and that's why we're urging her to do everything she can to keep the public in public housing and to keep 200 people from losing our jobs."
Despite decades of mismanagement and underfunding of SFHA , the workers have improved the housing agency's performance. Existing SFHA staff have decades of work experience housing seniors, children and people with disabilities. SFHA workers are advocating for their jobs and the nearly 14,000 residents who rely on them.
At the action before the SFHA Board, Carol Holmes expanded on what a lack of transparency from private contractors could mean to tenants, "We fear that private contractors and organizations–if given control of the Housing Authority–would refuse to honor basic protections for low-income tenants. Right now, SFHA's tenants have the right to challenge threats of unjust evictions via a grievance hearing."
On March 7, 2019, Mayor Breed received notice from the U.S. Department of Housing and Urban Development granting the Mayor authority over all essential functions currently being performed by SFHA after the Mayor requested control over the Housing Authority. Immediately after the notice, the Housing Authority begann discussion with SFHA workers' unions on laying off over 200 SFHA employees, stating that HUD is requiring them to outsource what is left of the Housing Authority. However, the notice from HUD has not indicated such a requirement. Workers united SEIU 1021 now are urging for the Housing Authority to bargain in good faith over what the transition entails.
SEIU 1021 member Maryanne Montesa-Wright, an eligibility worker at the SF Housing Authority said," The employees and residents are the victims of mismanagement, and now I feel betrayed. For 19 years I went to work to fulfill my responsibility. Management failed to manage the finances of SF Housing Authority, not us."