Standing Up for a City for All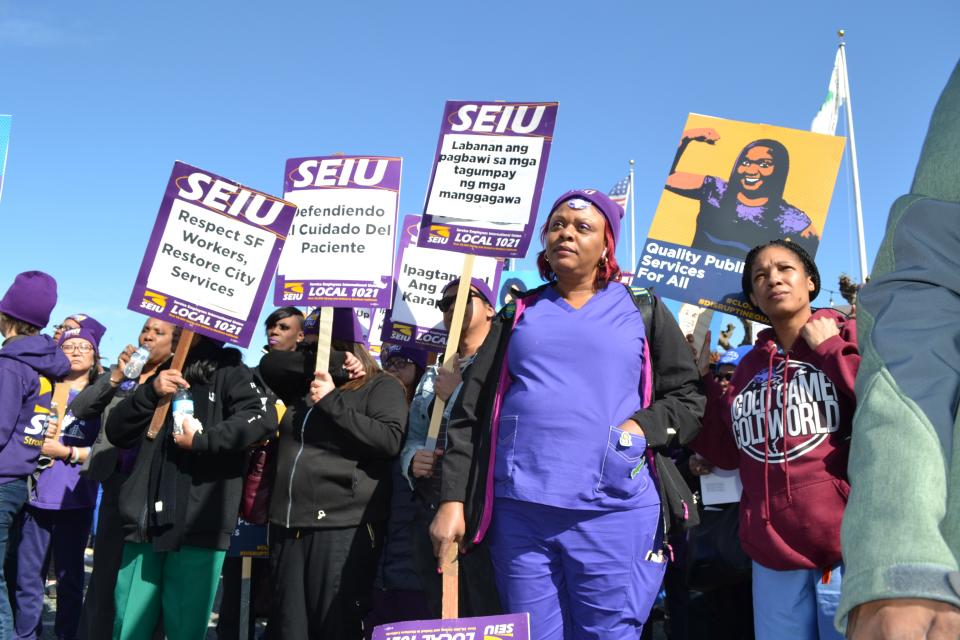 City Workers, Housing Advocates and Gig Workers March from San Francisco City Hall to Uber Headquarters to Deliver Message for Gig Companies to Stop Shortchanging Public Services
In a city as absurdly rich as San Francisco, there is no reason for thousands of families to be left behind. The City is experiencing unprecedented wealth. Last year alone, city revenues were up to more than $10 Billion.
But workers are being told at the bargaining table that the City can't afford to invest in the vital programs they provide or in allowing them to keep up with the skyrocketing cost of living.
Meanwhile, multi-billion dollar corporations like Uber and Lyft get to play by their own set of rules and not have to pay their fair share towards the public services that we provide. CEOs of these "unicorn" companies are paying nearly half the rate of taxes towards maintaining our roads, funding our schools, and keep our city safe and healthy than what city workers are paying.
Residents are bracing for further destabilization of an already squeezed housing market and additional pressure on public services. City workers say that critical city departments and services are already understaffed and overwhelmed, yet Mayor London Breed and City Administrators are failing to bargain contracts that invest in services that residents rely on or that prevent the displacement of working families from San Francisco.
"People need fair wages, people need benefits and we absolutely need big business in the city to pay its fair share in taxes," said Jennifer Esteen, a nurse at San Francisco General Hospital "Right now we've got Uber and Lyft with their IPOs (Initial Public Offerings), with huge valuations… and we still have homeless people, tent encampments and people who can't afford to live in this city, who work here every single day. Like myself, I've worked here for ten years and can't afford to live in this city. I just want to see this city continue to prosper."
On April 11, Jennifer Esteen and 24 city workers and community allies participated in civil disobedience in front of San Francisco City Hall. Wearing signs saying "Disrupt Inequality," they risked arrest to demand immediate action on the city's growing crisis of inequality.
San Francisco is city is as a cross roads, and Mayor London Breed and city leaders must take a stand to ensure that San Francisco is a city that workers for everyone—not just the 1%. It's time to negotiate a fair contract with your workers and to hold these corporations and CEOs accountable—the heart and soul of San Francisco relies on it.