Stand Up and Speak Out!
Wednesday, March 27 at 4:00 pm at SF City Hall, Room 305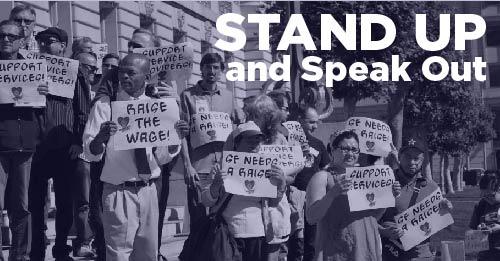 Wear your purple and speak out before the Mayor's Task Force on the Minimum Compensation Ordinance (MCO).
Nonprofit workers and our community and labor allies fought hard to get City leaders to prioritize raising nonprofit wages, but we must make sure the Task Force raises the wages of everyone —from the lowest paid workers to those who are responsible for leading programs at nonprofits. Together we must make sure that nonprofit workers who step into positions with increased responsibilities are compensated accordingly.
Wednesday, March 27 at 4:00 pm
San Francisco City Hall
1 Dr. Carlton B. Goodlett Place, Rm 305
RSVP to the Member Resource Center at 1-877-687-1021. For more information, contact Ramses Teon-Nichols at ramses.teon-nichols@seiu1021.org or (415) 601-1589.
SAVE THE DATE: SF Nonprofits Meeting | Thursday, April 18 | 350 Rhode Island #100 in San Francisco