Show up to tell the city we reject their cuts: Lake Merritt Car Caravan Tuesday, May 26, at 5:30 p.m.
May 22, 2020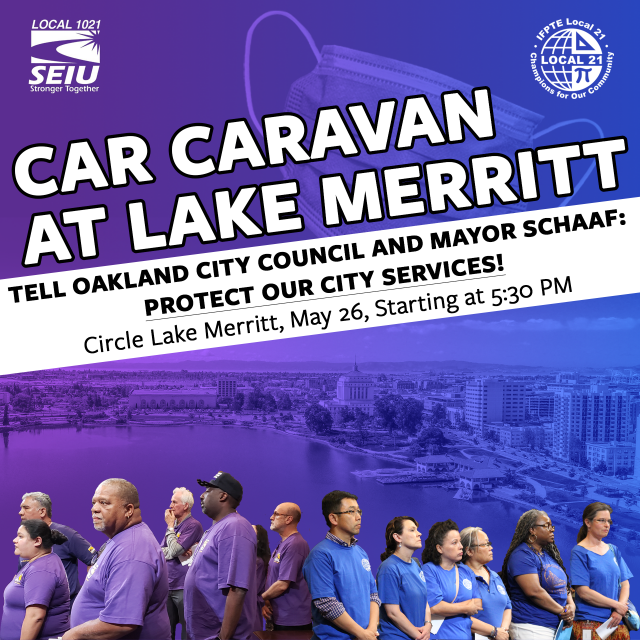 Dear co-worker:

I hope you are staying safe in this difficult time. The Mayor has followed up her plan to lay off some 800 of our temporary, part-time co-workers, many of whom have worked alongside us for years, by asking us to sit down with her and her team to discuss the impact of the COVID-19 pandemic.

We met with them today, and heard what they had to say. In short, they are asking us to sacrifice even more, even after we've seen our co-workers let go and our departments riddled with vacancies. We are working internally to find creative ways to address the City's budget shortfalls, including the $10 million they are asking City workers to give back, because we all know that service cuts and layoffs must be the last resort, not the first option.

To drive home the message to the Mayor and her administration that they must look at all available options and not balance the budget on our backs, we need everyone who cares about Oakland to come to our Car Caravan, this coming Tuesday, May 26. Details are below. I hope to see you there.

Sincerely, Felipe Cuevas, City of Oakland Chapter President
Car Caravan to Show Up for City Services
Around Lake Merritt
Tuesday, May 26, 2020
5:30 p.m.
NO CUTS DURING COVID
Starting at 5 p.m., come to the parking lot next to the Lucky Supermarket (207 E 18th St, Oakland) and we will put a poster on your car for visibility! (Or put a purple t-shirt on your back right window.)
We will be observing all social distancing protocols for this action.