SF Political Leaders, Community and Labor Groups Endorse Schools and Communities First Initiative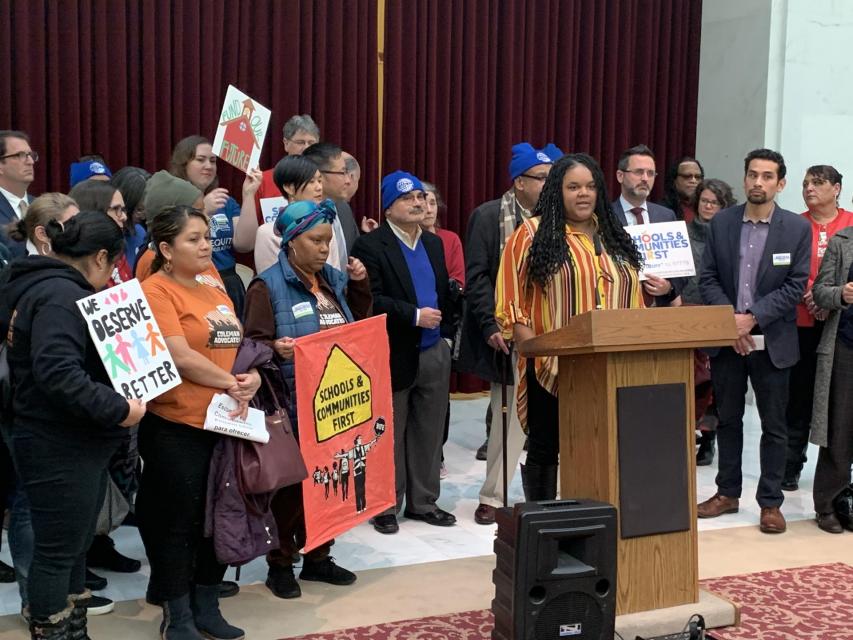 On January 28, SEIU 1021 members joined San Francisco Mayor London Breed and Supervisors Gordon Mar, Shamann Walton, Sandra Fewer and Norman Yee, and other unions, community groups for a rally celebrating the City's broad support of Schools & Communities First Ballot Initiative.
This exciting measure would reclaim $12 billion each year from wealthy corporations like Chevron and Shell Oil to fund schools and local services. The initiative specifically exempts all residential property, guaranteeing that homeowners and renters will be protected.
Speaking at the rally in support of Schools & Communities First, SFMTA worker and SEIU 1021 member Nicole Christian said, "Our transportation infrastructure is a critical piece of our local economy. But we face challenges. Yet for decades, corporations and wealthy investors have not been paying their fair share, which hurts our ability to update and expand services. People who commute through San Francisco via transit, automobile, bicycle, or by foot are paying the price so wealthy corporations can continue hoarding billions of dollars…in labor, we have a saying—when we fight, we win. We're all up here today because we're fighting to get this on the ballot. And we will win."
This rally comes amid an exciting push to collect signatures to qualify this initiative for the November 2020 ballot by SEIU 1021 members who know firsthand how underfunded and understaffed public services and schools hurt our communities and our families. If you're able to help collect signatures in your worksite, contact the MRC at 1-877-687-1021.
Other organizations joining us at Tuesday's rally were SF Rising, Evolve California, United Educators of San Francisco, IFPTE Local 21, Coleman Advocates, ACCE, SF League of Women Voters, Tech Equity Collaborative, and the California Alliance for Retired Americans. Members of the San Francisco City College Board of Trustees and San Francisco Board of Education were also there to share their support.