SF Mayor Proposes to Slash Public Services, Funding
Unnecessary Cuts Needlessly Put Safety, Healthcare, and Public Services at Risk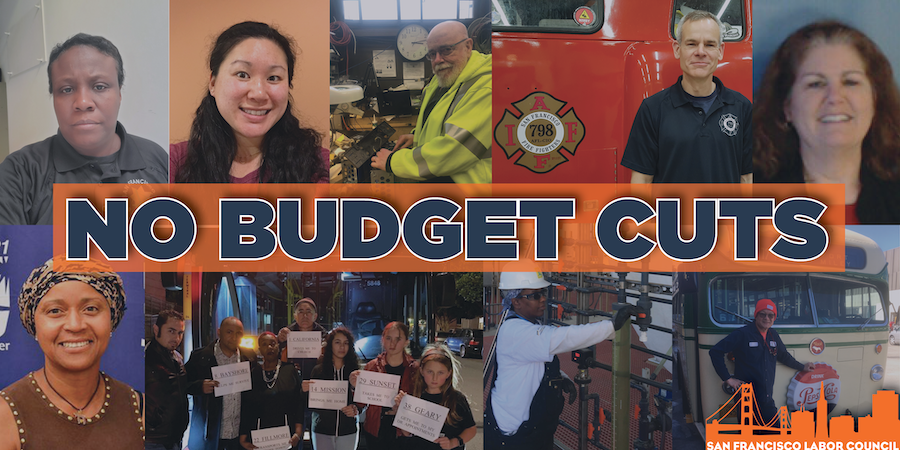 Sign our petition to say NO to dangerous and unnecessary budget cuts.
San Francisco city workers are sounding the alarm over Mayor Breed's drastic, dangerous, and unnecessary order for City departments to cut 3.5% of their budgets. These cuts will gut vital public services that SF residents rely on, especially the most vulnerable people among us.

The deep budget cuts come despite the $2.8 billion balance in San Francisco's General Fund and the fact that over the last 5 years, SF's General Fund revenues have outpaced expenses by a cumulative $1.9 billion.
"While the City continues to do better economically, the Mayor's office directing departments to cut back programs and preemptively hold back desperately needed hiring hurts every member of our community. How do we expect to solve the major issues like homelessness with cuts and short staffing to valuable city services? We need the city to provide bold leadership and invest in our communities," said Theresa Rutherford, SEIU 1021 Vice President of San Francisco.
City services are dangerously understaffed and underfunded, leaving workers in critical departments across San Francisco to do the jobs of 2-3 people. These additional budget cuts will have drastic consequences City services, workers, and the people who depend on us.
"There is no question that inadequate RN staffing leads to poor outcomes for hospital patients. Dozens of objective, scientific studies provide evidence of this link, and any nurse will tell you the same from their experience. Budget cuts put staffing in our hospitals at risk, which puts patients in our hospitals at risk. We can't risk the health and safety of our community," said Kristen Silloway, an RN at San Francisco General Hospital and SEIU 1021 member.