SF Hospital Workers Fight for Safe Staffing and Against Outsourcing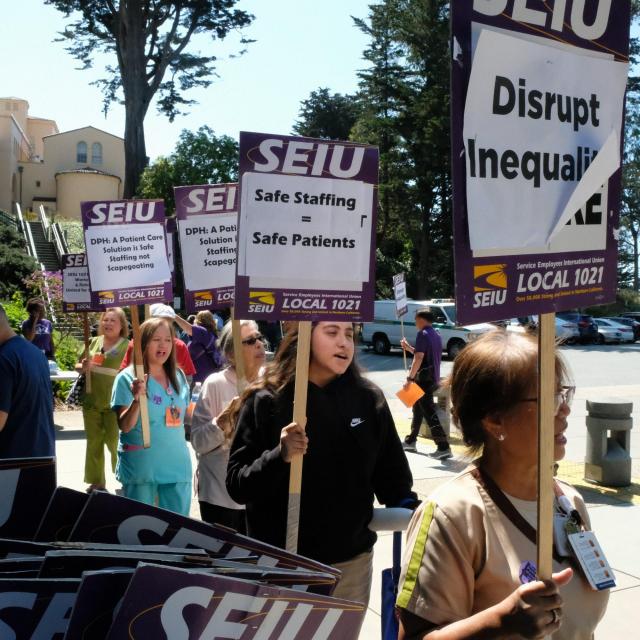 On September 12, over 250 hospital workers rallied to address chronic understaffing at Laguna Honda Hospital and the Adult Residential Facility (ARF) at San Francisco General Hospital's campus. Holding signs that read "A Patient Care Solution is Safe Staffing Not Scapegoating," workers criticized the SF Department of Public Health (DPH) for outsourcing jobs to save money.
Theresa Rutherford, VP of 1021's SF region, told the SF Examiner, that Laguna Honda's Nutrition Department once had three chefs, but for the past year, only one chef has remained and is expected to serve meals for 800 patients.
"They have cut the staff by one-third but are expecting the same quality of work," said Rutherford. "When the [workers] are not able to deliver, they are penalized."
Workers blasted the department at the rally for failing to respond to staffing issues and for reducing the quality of care and threatening patients and worker safety at both hospitals.
At the ARF, administrators sent out eviction notices to long term residents who suffer from severe mental illness last month. These residents cannot prepare their own food, do their own laundry nor manage their own money or their medications.
Administrators plan to drastically reduce 41 beds to only 14, and to outsource the work to an outside nonprofit to make way for homeless navigation center. Management's reasoning for reducing the beds was that they were unable to staff the facility.

"It has been nurses and health care workers who have been blowing the whistle repeatedly to expose mismanagement, neglect, and a deep lack of common sense coming from Department of Public Health. This department ignores patient rights. They ignore workers' rights. This must end now–we cannot wait years to help patients who need us now." Rutherford continued, "We absolutely need to keep these beds open and fully staffed. Reducing the beds at the Adult Residential Facility will lead to more people falling through the cracks and suffering on the streets with no help or end in sight."