SEIU Members Question 2020 Candidates at the Unions For All Summit in LA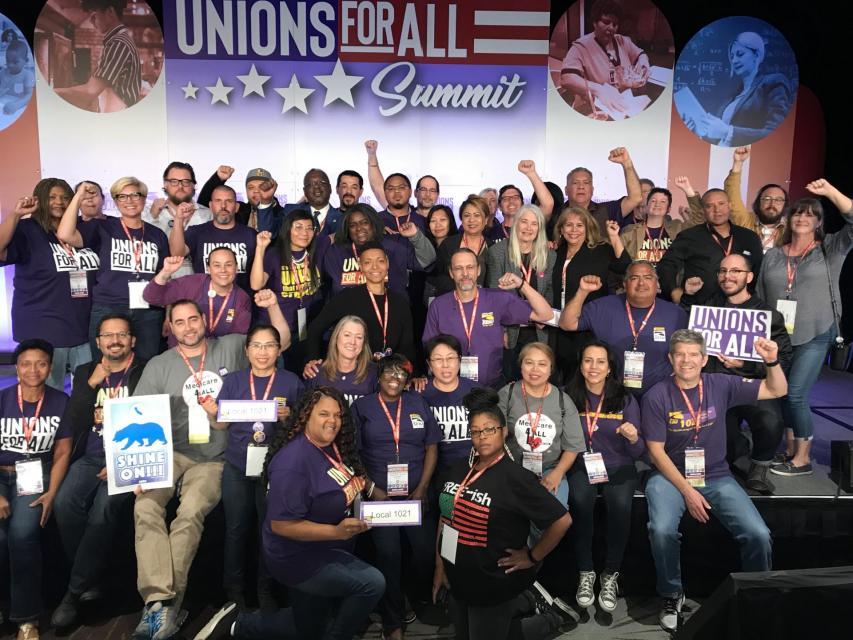 Over 1000 SEIU members, and workers not-yet-members from the Fight for $15 and a Union Campaign, gathered at the Unions For All Summit in Los Angeles on Oct. 3-6 to interview the 2020 presidential candidates and hear their plans for ensuring that every working American has the right to have a union.

At the heart of the 'Unions for All' demand is the idea that if everyone was in a union, working people would have the power and resources to achieve economic justice, eradicate anti-Black racism, fund public services and fix our environment.

Eight candidates seeking the support of SEIU members included: Former Vice President Joe Biden, Kamala Harris, D-Calif., Elizabeth Warren, D-Mass., Cory Booker, D-N.J., Amy Klobuchar, D-Minn., former HUD Sec. Julian Castro, ex-Rep. Beto O'Rourke and South Bend Mayor Pete Buttigieg. Senator Bernie Sanders, D-Vermont, was scheduled to attend but had to cancel as he was recovering from the surgery.
The candidates faced a wide variety of questions about making union membership easier, migrant detention centers, police reform, climate change, immigration, ending mass incarceration and health care. All questions central to the labor movement.

"We see all these fights are inextricably linked," said Mary Kay Henry, SEIU International President. "All of these things that impact our lives, we want to hear from the next presidential candidate what they're going to do."

Working people in SEIU and activists in the Fight for $15 and a Union demanded the next president to fight with working people to win justice in workplaces, communities and democracy.

"It was very impactful to see workers from the Fight for $15 and a Union at the summit. To hear their struggle and their fight and how committed they are to the fight. And to have a new perspective on who is filling those jobs. These are people who have done the work for decades. Who are trying to raise their family on that low wage. They are working in conditions that are not safe. They are being sexually harassed. And they are not being treated with dignity or respect. Those are the things we fight for in the union so much and we take for granted in the union. People that are working should be respected. Sounds like they really need a union and we need to support those workers," said Sandberg.
Watch video of the SEIU members interview 2020 presidential candidates.