SEIU members across the state sent over 13,000 letters to lawmakers advocating for Courts workers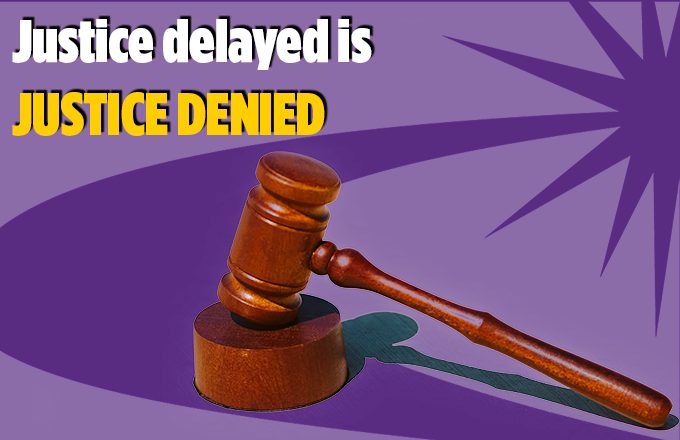 Recently, SEIU 1021 members in the North Coast region joined hundreds of SEIU members working in Superior courts across California in a letter-writing drive to draw attention to the budget, pay, and staffing challenges facing court reporters and clerks. COVID-19 has had a tremendous impact on our already-strained Superior Courts.
"In 2017, the transition to a new case management system was less than smooth. It tripled work time and resulted in an enormous minute entry backlog which was amplified by the Tubbs Fire. The minute entry backlog was shouldered by the Courtroom Clerks. Since then, it seems to be one disaster after another. We had flooding the following year, followed by more fires and then along came COVID," said Jennifere Kenestrick, a Courtroom Clerk at the Sonoma County Superior Court. "Since the pandemic, the burden of the Courtroom Clerks has grown. The objective of a Courtroom Clerk is to accurately capture a bench officer's court order in a hearing. We are currently expected to manage programs such as Zoom, live YouTube feeds, and Microsoft Teams while keeping track of how many people are in the courtroom at any given time. It is concerning to me that we're expected to keep exceptional records while being pulled in so many other directions."
Governor Newsom's budget proposal, along with the Senate's Budget Blueprint, provides a much-needed reinvestment to address funding proposals that Court employees have long been advocating. The letter-writing campaign focused on three core asks:
Court Clerks are calling for increased funding to address the eviction crisis facing California's renters. Sadly, a large number of California's renters have fallen behind on rent as a result of COVID-19's impacts and courts already suffered cuts last year. Restoring funding will be essential for preserving access to the justice system for renters who may need access to courts in the coming months.
Additional funding is essential for Court Reporters who haven't received a pay increase in decades. Cost of living in California has gone up 81% since Court Reporters last received an increase in 1990, leading to challenges recruiting and retaining staff. Court reporters provide an invaluable service to our judicial system, maintaining not only the record but the sanctity of court proceedings.
More money is badly needed to hire Family Law Court Reporters. The state must dedicate sufficient money for the hiring of official court reporters to cover family law matters to ensure accurate records.
In total, the letter-writing campaign generated 13,965 emails to lawmakers across California.
"Prior to the pandemic, misdemeanor courtrooms had two clerks to process the daily morning calendars, which had anywhere from 80-100 cases on the calendar every morning. We now only have one clerk per department, in addition to all our new responsibilities, and yet the expectations have not changed," Jennifere said. "Currently, there is a cap to keep the calendars at a manageable level. Beginning July 1, the CEO and court administration will pull the cap that is essentially protecting staff from calendars growing beyond sustainable volumes, once again leaving staff to shoulder yet another round of minute entry backlogs, with no job recruitments in sight. These backlogs result in information not getting reported to reporting agencies or being reported incorrectly or past their due date. If convictions are not reported to the Department of Motor Vehicles, for example, the end result is usually more fines and fees for defendants as it may result in additional licensing fees and/or DMV action, including unnecessary duplicate driver license suspensions. It's unacceptable."
There's an old saying that justice delayed is justice denied. Many SEIU 1021 members working in California's Superior Court system have seen this firsthand, having witnessed countless delays for community members seeking to access the justice system as a result of both the COVID-19 pandemic and ongoing funding issues.