SEIU Member, Detained and Disenfranchised, With Immigration Executive Order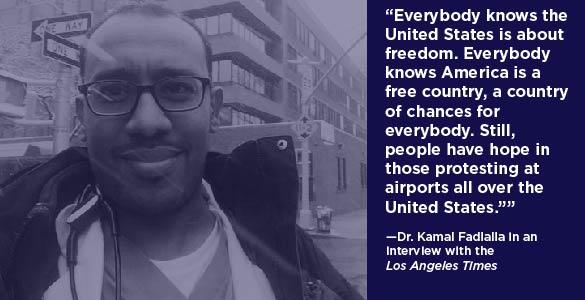 Dr. Kamal Fadlalla, a second-year resident physician and member of SEIU's Committee of Interns and Residents, is one of thousands of immigrant Americans who have been disenfranchised by President Donald Trump's anti-immigrant Executive Order.
Fadlalla, a Brooklyn, N.Y., resident, was detained Saturday when attempting to return to the United States after visiting his family in Sudan. As a result of Trump's "Muslim ban," he is now stranded away from his home, his hospital, his life and his patients.
President Trump's Executive Order to severely restrict immigration from seven Muslim countries sent shockwaves throughout the world this past week. Individuals with valid travel visas, refugees, and dual citizens have been detained at airports and blocked from entering the country.
The travel ban scapegoats Muslim refugees and immigrants, and does little to make our nation safer. It shuts out families who are fleeing war, hunger, and terrorism. It discriminates against immigrants based on religion and nationality.
Trump's Executive Order not only violates the Constitution, but also the very values our country was founded upon. It has prompted protests across the nation to stand up against President Trump's misguided ban. We are part of the millions who are standing up to injustice and fighting hate on all fronts.
Read more:
Los Angeles Times: "Trump's cruel, illegal refugee executive order"
SEIU President Mary Kay Henry: Trump's targeting of immigrants and refugees will divide and weaken our nation, hurt working families