SEIU 1021 Vice President of San Francisco Theresa Rutherford shares an update on the Mayor's most recent budget proposal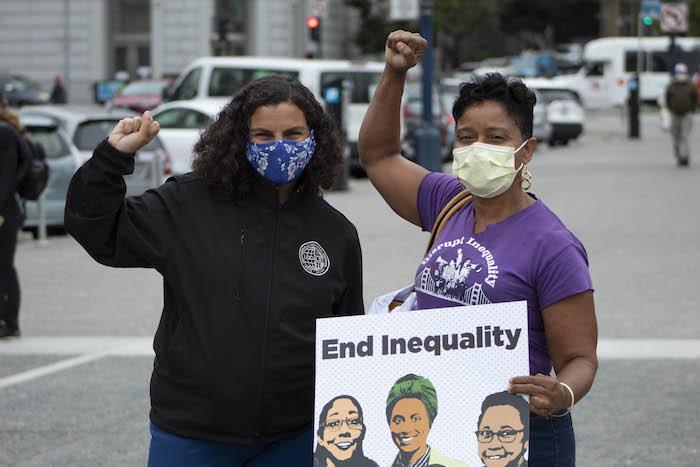 "For much of last year, San Francisco was predicting serious budget woes that the City said would result in a projected shortfall of millions of dollars. Amidst the uncertainty of the COVID-19 pandemic, we were told time and again that the sky was falling and an extreme recession was just around the corner.

Our members wasted no time rolling up their sleeves and doing what we could to secure funding. We helped pass both Prop F and Prop L locally, reaffirming that San Francisco residents want and will support funding public services that union members provide our community. We campaigned in support of Joe Biden, who had pledged to provide financial relief to cities weathering the COVID-19 crisis, resulting in the arrival of badly needed Federal funding from the American Rescue Plan that protected our jobs and services.

Thanks to our efforts, the recently proposed budget from the Mayor's office contains a number of items that will benefit SEIU 1021 members serving the residents of our city, including:
Fully funding labor contracts: City/County employees will receive a .5% wage increase on June 30, 2021 and a 3% wage increase on July 1, 2021.
Leveraging over $1 billion in state, federal and local funds to expand work started through the homelessness recovery plan.
City-funded non-profit sustainability: annualizing the one-time 3% COLA from FY 2021, adding an additional 3% ongoing COLA
Dedicating $1.5 million over 2 years for Diversity, Equity, and Inclusion resources for DHR and ORE.
With budget hearings right around the corner, we'll need to continue organizing and making sure that San Francisco's next budget reflects the needs of our community and the workforce who services our city's residents. Please keep speaking with your coworkers, sharing updates, and asking one another to get involved and stay updated on next steps. We'll be sharing more details soon—I hope you'll join us."