SEIU 1021 members reflect on their experiences applying for the UC Berkeley Labor Center's C.L. Dellums African American Leadership School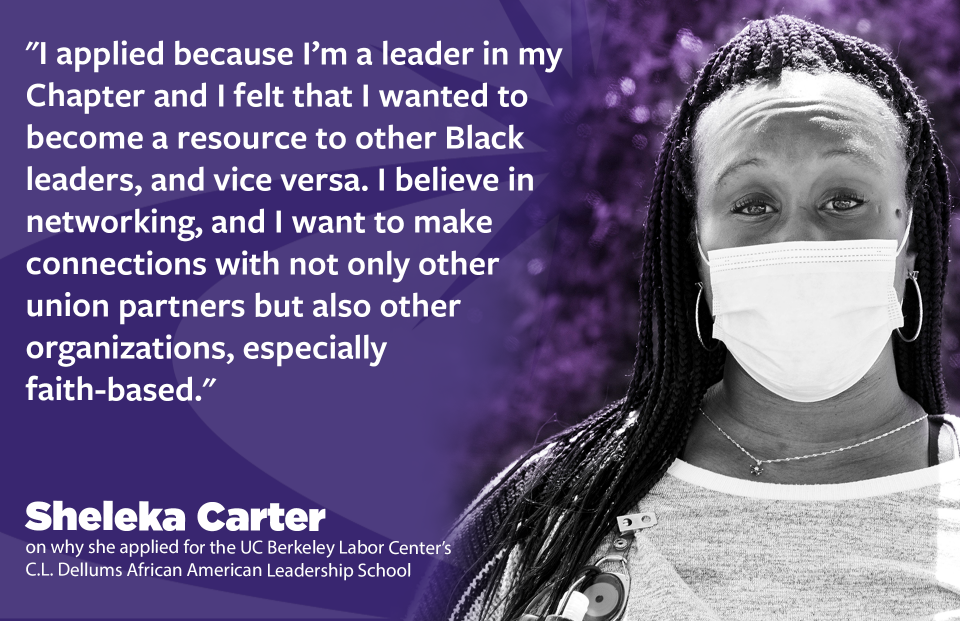 This year, five SEIU Local 1021 members were accepted into the UC Berkeley Labor Center's CL Dellums African American Leadership School. This six-week program brings together and trains young emerging leaders to strengthen the connection between the Black community and the labor movement and promote the interests of Black workers within their unions and their communities.
The Dellums School offers members the opportunity to develop relationships, deepen their organizing skills, and critically connect the dots between the many issues that Black workers face. That relationship building was important to Sheleka Carter, a member from Alameda Health System, and played a role in why she signed up for the program.
"I applied because I'm a leader in my Chapter and I felt that I wanted to become a resource to other Black leaders, and vice versa. I believe in networking, and I want to make connections with not only other union partners but also different organizations, especially faith-based. My goal is to make connections, learn the curriculum, and bring it back to our Stewards and leaders, maybe even extracting what I learn to a create something within our Chapter that other members at AHS can participate in," Sheleka said.
Karen Metcalf, a member from the Chabot-Las Positas Community College District, shared similar reasons for signing up, saying, "I am excited and thrilled to be a part of the CL Dellums African American Leadership Training Program. As an SEIU 1021 union Chapter officer, this program will enable me to become a stronger leader and have the opportunity to expand my skills and abilities. It's also a chance to learn new modalities to engage my Chapter in equity and social justice work and to work towards the eradication of anti-Black racism. This most important work should be at the foundation of all union Chapters. In order to win labor fights, structural racism must be addressed first and foremost. Band-aids or ignoring the critical issues of anti-Black racism cannot be permissible, as this truly impedes our fights as labor moving forward. I also look forward to rich collaboration with other union siblings to find best practices in the engagement of this critical work to secure equity and social justice while dismantling anti-Black racism."
Also participating in this year's program are Donneva Reid and Phyllis Copes from our Oakland Unified School District Chapter, as well as Nicole Christian from the SF Muni Chapter.