SEIU 1021 Members Participate in the International Youth Climate Strike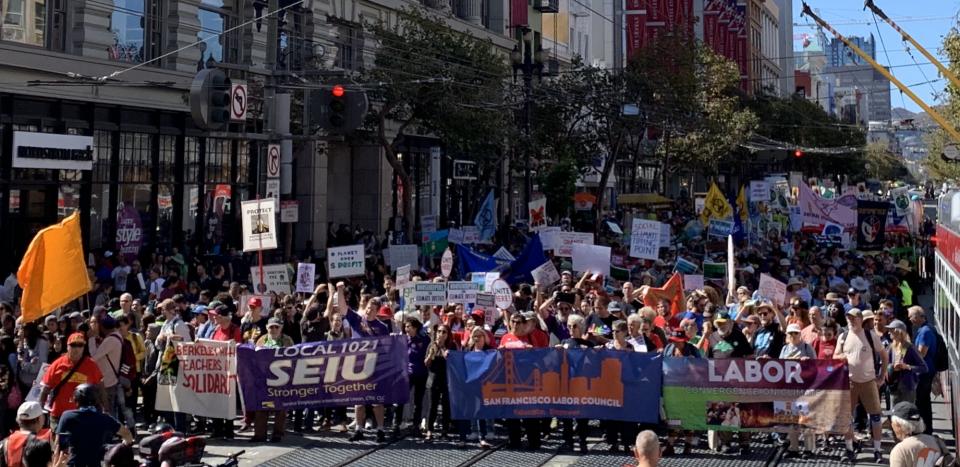 On September 20, SEIU 1021 members across Northern California stood with students, climate change activists, and other unions by participating in the International Youth Climate Strike. Together, workers demanded that world leaders take immediate, bold action on climate change and to raise standards for working people.
"It's been such an amazing experience to watch the youth be uplifted and empowered to talk about such a crucial moment in our time and the opportunity to create union jobs for this generation. We can also improve the livelihoods of communities of color and low-income communities by offering that gateway of organized union jobs that protect workers in the green economy," said Miriam Palma-Trujillo, an SEIU 1021 member who estimated that between 10,000 and 15,000 people attended the action in San Francisco.
As part of the seven-day Climate Strike from September 20-27, SEIU 1021 participated in an SEIU Environmental Justice Learning Retreat on September 21 with members of SEIU Locals 721, 2015, and United Service Workers West (USWW). Members were also active in Friday's Climate Strike actions in San Francisco, Santa Rosa, Chico, and Oakland.
"The Green New Deal tackles two of the greatest crises facing working families: income inequality and climate change. As part of SEIU and the movement for social justice, we demand immediate and bold action to ensure thatwe have an environmentally responsible and economically just society," said Aaron Haar, an SEIU 1021 member who spoke at the action in Chico.
SEIU 1021 call on our leaders nationally and in our communities to prioritize upgrading our infrastructure with clean technology to create more good-paying union jobs that lift up working families.
"We're trying to save the planet while we still can," said SEIU 1021 member Dorothy Silver.