SEIU 1021 members mobilize to fight Hayward School closures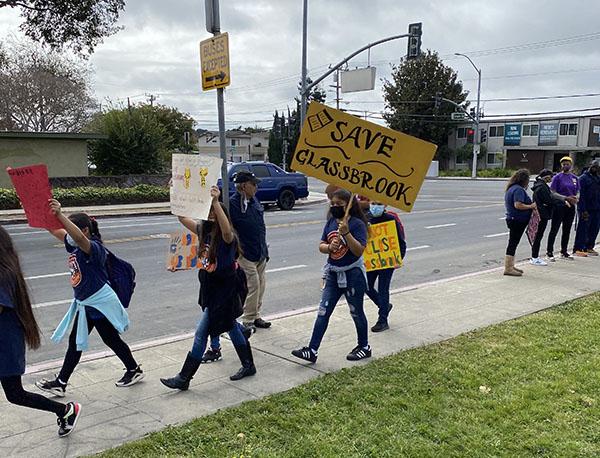 November 15, 2021: Declining K-12 school enrollment is a problem statewide, especially in the Bay Area. Hayward Unified School District (HUSD) management plans to close several schools, blaming a combination of lower enrollment, expensive repairs needed to facilities, and a budget shortfall. They appear poised to close up to eight schools–a huge disruption to school cultures, social communities, and education programs after a year and a half of turmoil from the pandemic.
Further disruption is not the answer. HUSD staff, educators, and families are not ready to throw in the towel on these beloved neighborhood schools just yet though, and are gearing up to fight back against the recommended closures.
HUSD management is bringing its recommendations to a special meeting of the HUSD Board of Education this Wednesday, November 17. In advance of that meeting, HUSD staff–members of SEIU 1021 and the Association of Educational Office and Technical Employees (AEOTE)–along with educators–members of Hayward Education Association (HEA) and the community groups Hayward Community Coalition and Poder Hayward will be marching from Birchfield Park to the HUSD District Office, where they will rally and demand the Board of Education put the brakes on the ill-conceived plan, which would harm students, programs, and the schools that would have to absorb the impacts.
"Our schools are a critical part of our communities. Abruptly closing several schools, on top of two years of upheaval, is extremely disruptive to students and the dedicated people who work with and for them under already stressful conditions every single day," said Lanell Johnigan, HUSD chapter president of SEIU Local 1021, which represents maintenance and operations staff. "Right now, District management has not even presented a plan to make sure that programs existing at the schools they want to close and the displaced students, staff, and educators can be smoothly transitioned over to other schools. This is being rushed and ultimately, it's the students who will pay the price."
SEIU Local 1021, HEA, and AEOTE are urging the HUSD Board of Education to seek ways of boosting enrollment, including by taking advantage of new funding streams provided by the universal pre-K/TK initiative passed earlier this year and the $2.8 billion allocated for transitioning schools into community schools included in the budget Gov. Newsom signed this summer.
It is imperative to slow down this rushed effort to close schools, which would lead only to further declines in enrollment and further decimation of Hayward's public schools, which could irreparably harm students, staff, and educators.