SEIU 1021 Members March Against Fracking at the March for Real Climate Leadership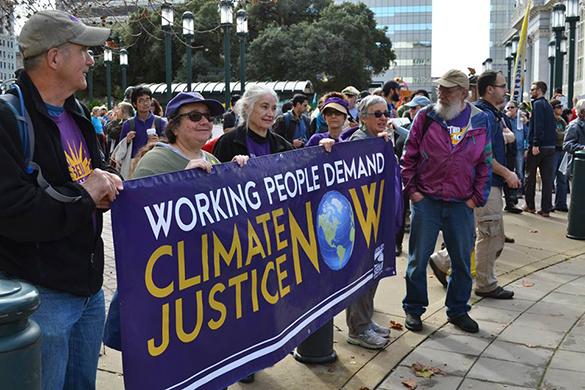 Last December, Bay Area workers, union organizers, and labor leaders toured several communities in the Central Valley impacted by fracking. What we witnessed was horrifying: fracking wells near agricultural fields, community gardens and elementary schools, poisoning the air and water of working class and immigrant communities, causing an epidemic of asthma and cancer.
At the same time, fracking is accelerating climate disruption, wasting millions of gallons of water daily during the worst drought in state history, and endangering the health and safety of oil and gas industry workers.
On February 7th, we joined thousands of climate activists in Oakland to demand climate justice. We joined thousands from across the state and across the country to call on Gov. Jerry Brown to ban fracking in California and for a just transition away from dirty energy towards good jobs in community-controlled clean energy.