SEIU 1021 Members Lead the Way Toward a Safer Oakland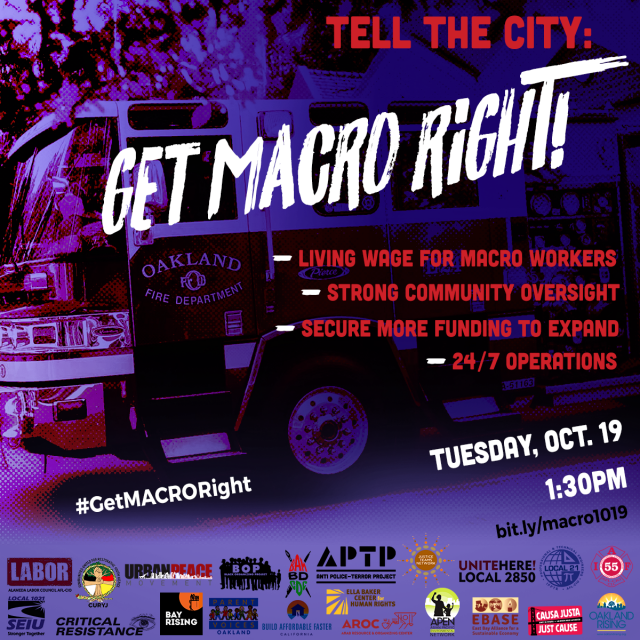 On October 19, Oakland's City Council unanimously voted to move forward with establishing a trailblazing program called MACRO: Mobile Assistance Community Responders of Oakland. MACRO will expand the city's public safety programs by adding a non-police response option for non-violent emergencies. The program will be staffed by civilians with the medical and mental health training to handle these non-violent emergencies. The people doing that work will be SEIU 1021 members, with living-wage compensation packages that will be comparable to other first responders in Oakland.
The program has been a long-term project of SEIU 1021, and 1021 members have and leaders have been aggressive and persistent in showing their support and pushing City Council to adopt the program and make it successful. On the 19th, Council adopted the recommendations of the Public Safety Committee to pursue additional funding to expand the program so that it can serve the community 24/7. They also voted to support a community advisory board. These priorities had been championed by SEIU 1021 and other community members for months worth of Public Safety Committee meetings.
Yeon Park, SEIU 1021's Vice President of Region C, the East Bay, said, "We worked hard to make sure that these jobs will help the community not just by providing a valuable service, but also by being good, union jobs. Our vision for MACRO is that City of Oakland residents will be providing services for their own community. This program is a model of providing services to our community, and also providing equitable jobs in the community. For me, the key is that keeping good jobs in the community helps the community."
The program is needed, Park says, because, "…we care about the mental health crisis in our streets. Law enforcement isn't trained to deal with mental health issues, so we need care providers who address these issues without locking people up or escalating situations."
Sticking together and working with the community at public hearings and advocating for our position in social media worked for Oakland, and it can work in all of our jurisdictions.