SEIU 1021 Members Lead Powerful Racial Justice Roundtable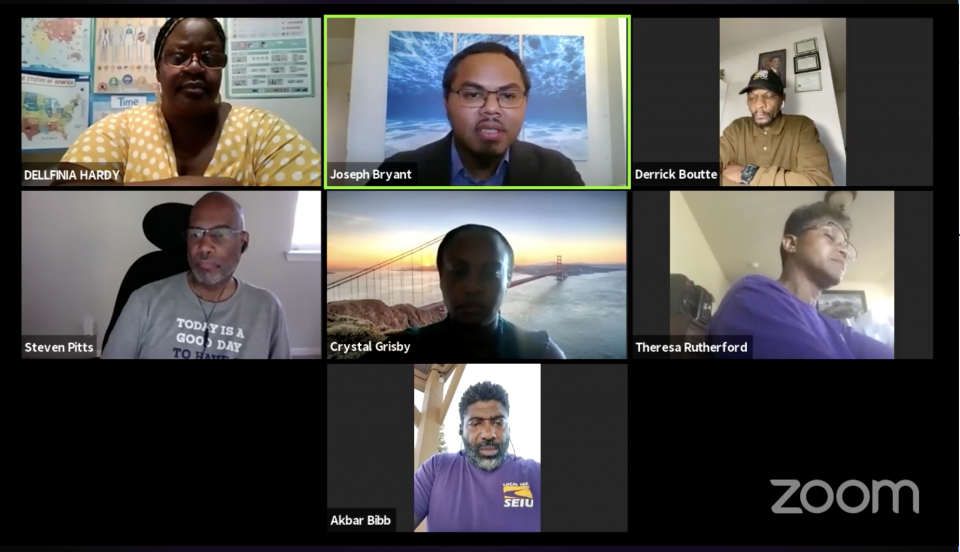 In the wake of the recent murders of George Floyd, Breonna Taylor and Ahmaud Arbrey, SEIU 1021 members hosted a powerful Racial Justice Roundtable discussion on June 9. This deeply personal conversation was intended to create space for us to process, provide support, and discuss what's happening in our communities and what we can do in this moment.
You can watch a full recording of the event on the SEIU 1021 Facebook Page or on Vimeo.
"There's a disease running rampant in this country that has taken the lives of thousands of Americans—the disease known as racism. If you're Black, Brown, Native American, API, or any other person of color, you've dealt with this your entire life," said SEIU 1021 President Joseph Bryant. "Defeating racism is not a sprint—we have the momentum right now but this is a marathon. There are so many different ways that we have to approach it if we are going to be victorious in finally ending racism for the people who experience it every day—our kids, our nephews, our nieces. Organizationally, we are committed to that."
These recent murders are painful reminders of why our union committed in 2016 to becoming an antiracist organization and tackling anti-Black racism. There can be no justice without racial justice.
The panel was facilitated by SEIU 1021 Social and Economic Justice Committee Chair Derrick Boutte, who works as a Housekeeper at Highland Hospital in Oakland. Derrick guided the panel through a moving discussion, prompting folks to respond to a number of questions:
What would you tell yourself as a child about where we are in America today?
How do you feel about recent uprisings against police brutality?
What disparities have you witnessed in Black, Latino, API, and Native communities during the COVID-19 pandemic?
How do we combat racism at work, home, and in our communities?
Derrick and the panel also fielded a number of questions from audience participants on Facebook Live.
"I want to thank each and every one of our panelists who joined us this evening, and our participants out there on live Facebook. This is a three part series that we'll be giving. I will be your facilitator and will bring you different panelists for these open discussions. So thank you, justice to you all, and in solidarity," said Derrick at the close of the event.
Our June 9 panel consisted of:
Steven Pitts, Associate Chair of the UC Berkeley Labor Center
Theresa Rutherford, SEIU 1021 VP of San Francisco and Nurse Assistant at Laguna Honda Hospital
Akbar Bibb, SEIU 1021 North Central Vice President and Solano County Social Worker
Dellfinia Hardy, SEIU 1021 Healthcare Industry Chair and LVN for the San Francisco County Jails
Brandon Dawkins, SEIU 1021 San Francisco Area Rep and Activity Therapy Supervisor at Laguna Honda Hospital
Crystal Grisby, Organizing Coordinator at SEIU 1021
In the closing call to action, participants were encouraged to join a march scheduled for Saturday, June 13 in Oakland. You can RSVP for that event here. Stay tuned for updates on future racial justice events.