SEIU 1021 Members Join Thousands To Rally Against Hate In Berkeley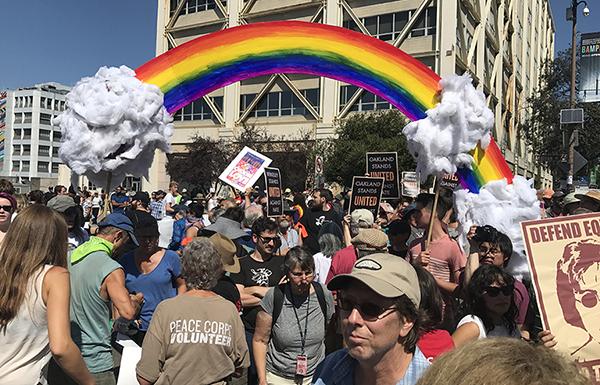 BERKELEY,CA — City of Berkeley employees and other city, county, schools, healthcare, and nonprofit workers from throughout Northern California joined thousands at the peaceful, non-violent Rally Against Hate on August 27. The rally stage was surrounded by thousands of students, teachers, seniors, and working families rallying to protest against far-right extremists, the white nationalist rally at Berkeley City Hall, and the wave of anti-immigrant federal policies.
The rally, held at the edge of the University of California at Berkeley at Oxford and Addison streets, was a two-hour display of peace and unity. Atop a flatbed truck, Holocaust survivors, immigrant workers, faith and labor leaders, and others, gathered to condemn racism, violence and bigotry.
Out in the rally grounds, many protesters carried creative protest signs with powerful messages, and most shared their stories about needing a space to come together after the violent deadly clash in Charlottesville between white nationalists and anti-hate-speech protesters.
Jenny C., VP of the City of Berkeley Clerical Chapter of SEIU 1021, passionately relayed how she felt after the violence in Charlottesville.
"I felt the pain of the mother that lost her child [at a rally protesting hate speech in Charlottesville earlier this month]. Many people are discriminated everyday, and many people feel alone when they are discriminated and this rally was the opportunity for everybody to get together to show you are not alone. And together we can make a difference."
Sunny Santiago, SEIU 1021 Executive Board member and Service Coordinator from Redding, traveled three hours to Berkeley to be part of protesting unjust immigration policies and negative stereotypes. She said, "It's not right what's happening today in America regarding immigrants. I'm an immigrant myself. I came here when I was four years old. I could have been a dreamer and the Dream Act is in jeopardy. I've worked hard [to be where I am]. They say Mexicans/Hispanics are criminals and drug dealers—that's not true. We are hard working, educated people. We love the US and love being Americans."
After the rally, thousands of peaceful protesters lined up to march down to Civic Center Park. Berkeley Mayor Jesse Arreguin issued a statement Sunday evening praising the majority of protesters who were peaceful during Sunday's events.
"I applaud the more than 7,000 people who came out today to peacefully oppose bigotry, hatred and racism that we saw on display in Charlottesville. They gave impassioned speeches, they played music and they showed that Berkeley and the Bay Area will always stand for tolerance, diversity and justice," the Mayor's statement read.
Rally Against Hate Photos: