SEIU 1021 members join app workers protesting misclassification outside Uber CEO's San Francisco Mansion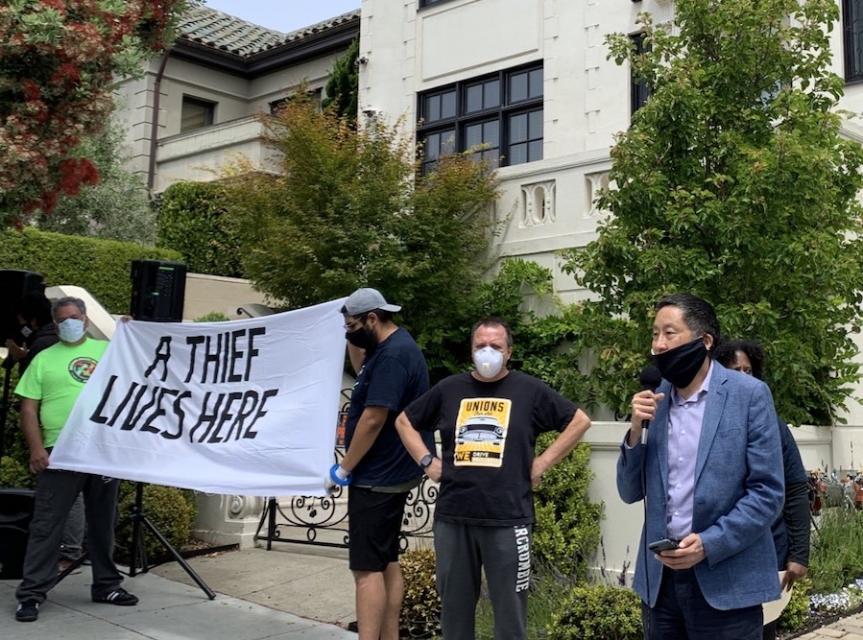 On June 24, SEIU 1021 members joined over 100 app workers with We Drive Progress and Gig Workers Rising in a caravan of cars through San Francisco to the front doorstep of Uber CEO Dara Khosrowshahi's mansion in Pacific Heights. Drivers were protesting their ongoing, illegal misclassification by app companies as independent contractors, a practice which Uber, Lyft, DoorDash and others use to deny workers basic rights and protections like paid sick leave, overtime, minimum wage, and other employee benefits.
"Companies like Uber and Lyft are stealing from drivers and from taxpayers. They do not pay into the unemployment fund. They do very little to protect us. We are not being given anything to help us stay safe, like masks or gloves. These are more things we must pay for out of pocket. It is ridiculous," said Hector Castellanos, an Uber and Lyft driver with We Drive Progress from Antioch, CA. "Dara can afford to live in this mansion because of everything these companies have taken from drivers like us."
Rideshare drivers have faced increasing financial insecurity and received little support from Uber and Lyft as they struggle to put food on the table, pay their bills, source protective equipment, and access unemployment benefits amidst the COVID-19 pandemic. According to a recent survey, two-thirds of drivers reported that it is unlikely they would be able to pay their mortgage or rent in May and another quarter report they have no health insurance while companies refuse to provide the protections required under California law AB5.
"The action in front of the CEO's million dollar mansion was a sad act of irony as drivers can barely pay for basics like food and rent while their boss is living in Pacific Heights in a mansion worth more than $17 million—bought and paid for using profits earned by those same workers' labor. Our union believes that every worker deserves to be paid a fair wage and be treated with dignity and respect at work. But companies like Uber and Lyft refuse to abide by AB5, the law here in California that requires their workers to be paid and treated fairly as the employees they are," said Jennifer Esteen, SEIU 1021 Vice President of Organizing. "Instead, Uber and Lyft have chosen to dedicate more than $110 million to fighting AB5 with disingenuous claims so they can continue taking advantage of their employees. Meanwhile, the hardworking people of our state are forced to subsidize these wealthy corporations, including the hundreds of millions they've skipped out on paying into unemployment, at a time when we are gearing up for public budget fights. Enough is enough."
A report from the UC Berkeley Labor Center found that if app companies correctly treated drivers as employees they would have paid $413 million into the state's unemployment insurance between 2014 and 2019, funds California desperately needs. The state recently borrowed $348 million from the federal government to make unemployment insurance payments to Californians.
"The gig companies' upcoming [Anti-AB5] ballot measure is intended to excuse the companies for paying their workers the absolute minimum for their labor. It is nothing short of an attempt to legislate wage theft," said Edan Alva, a Lyft driver and organizer with Gig Workers Rising. "Drivers are not allowed to go into the Uber CEOs office and take his money away, why should gig companies be allowed to rob the value of our work? Gig drivers are already conducting mass scale labor theft on the most vulnerable segments of society."
As workers protested outside Dara Khosrowshahi's mansion, Attorney General Xavier Becerra, along with the City Attorneys of Los Angeles, San Diego, and San Francisco, announced that they are filing an injunction that would require Uber and Lyft to immediately halt the unlawful misclassification of drivers as independent contractors. The Attorney General and City Attorneys filed a lawsuit on May 5 against Uber and Lyft for their noncompliance with Assembly Bill 5.
"It's time for Uber and Lyft to own up to their responsibilities and the people who make them successful: their workers," Attorney General Xavier Becerra said in a statement.