SEIU 1021 members fight back against expensive & undemocratic recall elections in Sonoma County and across California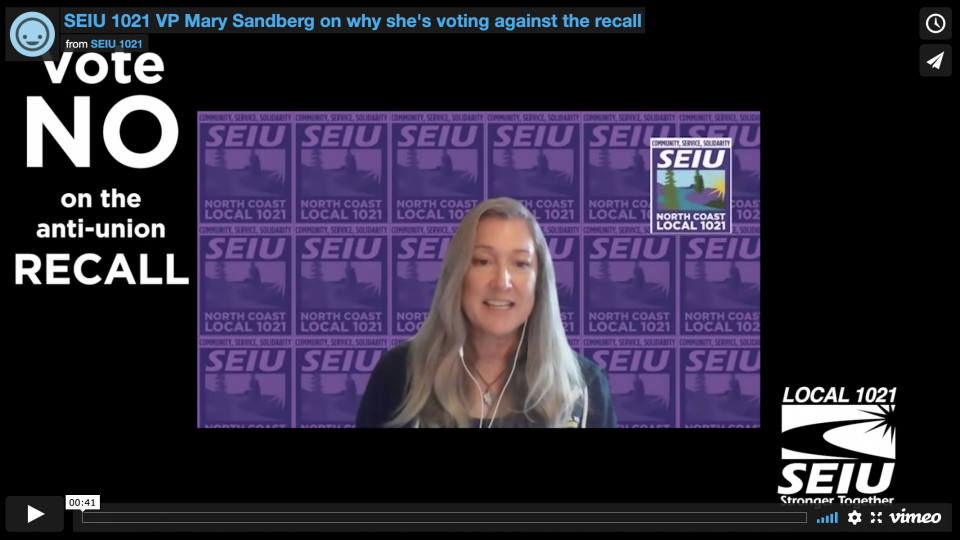 Watch SEIU 1021 North Coast VP Mary Sandberg discuss why she's voting NO on the recall
In 2021, SEIU 1021 members and our families will be faced with some important choices. In Sonoma County, we have a wealthy developer trying to oust the Sonoma County DA, we are facing a statewide anti-union recall of Gov. Newsom, and a CalPERS Board of Administration election where SEIU members have endorsed Jose Luis Pacheco and David Miller to win seats on the nation's largest pension fund. In all of these elections, we can make the choice to protect our futures and invest in our communities, but we have to get out and vote, then talk to our friends and neighbors about doing the same.
"In both the recall of Governor Newsom and the Sonoma County DA, we have examples of the super wealthy trying to bully elected officials and our communities by buying an election outcome. These recalls represent an attack on democracy and voter participation. Both are an effort by a well-funded minority to recall people who were duly elected. In the case of the Gubernatorial recall, it's a clear case of wealthy, anti-union forces trying to undo the progress we've made in California over the last decade," said Amos Eaton, a Senior Account Clerk with Sonoma County and SEIU 1021 Localwide Treasurer.
Amos continued, "Here in Sonoma County, we have a wealthy developer and his family using their millions to settle a personal grudge. In both instances, it's hardworking Californians who will have to pick up the tab, as the Sonoma recall is estimated to cost our County up to nearly $1 million and the recall campaign against Newsom is estimated to cost our state $276 million. Ultimately, it's not healthy for our communities to allow the wealthy to use their deep pockets to intimidate elected officials and undermine our democracy."
This attack really affects so much. The Governor and the DA have to stop or curtail the work we elected them to do to fight the campaign. Resources all across the state have to be directed to an election. Our union and every other organization supporting these officials have to stop what we're doing and engage in this fight. We all dance to the tune of the wealthy. Vote no on these recalls to tell the wealthy NO, this won't work, you can't fool us," Amos concluded.
Gubernatorial recall ballots are already arriving in mailboxes and the election is right around the corner. Governor Newsom has been a great partner to SEIU 1021 members and working families across California. SEIU members have endorsed voting NO on the anti-union recall of Governor Newsom, and are recommending not filling out a selection for his replacement.
Together, we have won some really important victories under Governor Newsom, which the recall puts at risk:
Guaranteed paid sick leave for every worker during the pandemic
Expanded access to child care and rate increases for child care providers
Prevented millions of evictions with a $5.2 billion rent relief program
Provided PPE for our healthcare workers
Fought for school funding and signed into law the largest increase in California history.
Click here to volunteer to defeat the anti-union recall of Gov. Newsom.