SEIU 1021 Members Are On the March Against Concessions Across the East Bay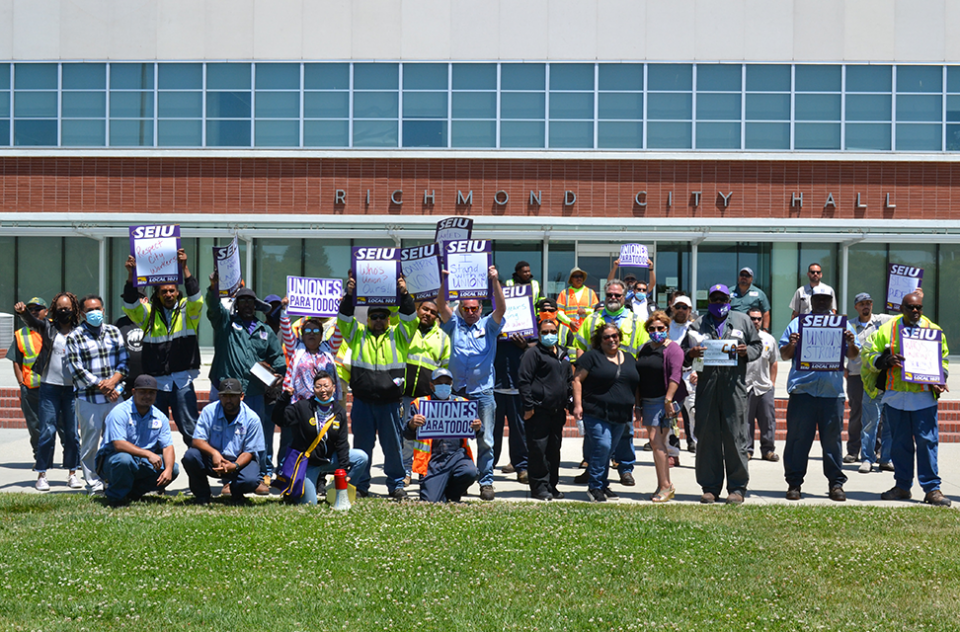 Cities are reopening across California, and SEIU 1021 members across the East Bay are speaking up to make sure equity and services for our communities don't get left behind.
Richmond and Hayward have both received millions of dollars in federal American Rescue Plan Act money, and have substantial reserve funds to help survive economic downturns. Both cities have pursued major takeaways and concessions at the bargaining table recently, with Richmond workers being asked to make significant contributions to their healthcare coverage and Hayward workers asked to pay even more into their retiree medical funds. Both groups are sticking together to ensure that members are treated fairly and the community continues receiving the vital services those members provide.
In Richmond, on June 29, members rallied outside City Hall to call on City Council to sign a fair contract with City workers. Chapter President Greg Everetts addressed the crowd, along with the other bargaining team members, and urged the members to keep up their efforts: "Don't stop calling into City Council meetings, don't stop telling your stories, and don't stop fighting. I'm tired, I'm worn out, but I'm not going to stop! Keep calling in. Support your bargaining team, support your Councilmembers, support yourselves, because you, the members, are the union. If we decide to be weak, they will walk all over us. The City came with a lowball offer, but they need to understand that we're not budging, and we're not settling."
In Hayward, on Saturday, July 10, a three-union coalition featuring SEIU 1021, IFPTE Local 21, and HAME came together to join the farmer's market and the city's downtown re-opening celebration to show their unity and call for fair contracts for all.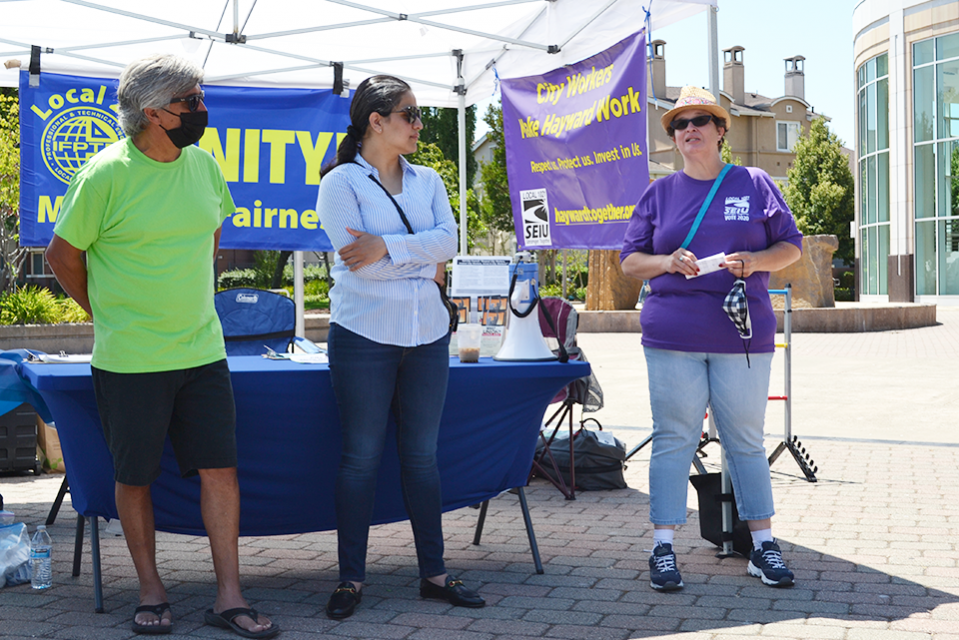 As HAME's Danny Magalhaes and City of Hayward City Councilmember and Mayor Pro Tempore Aisha Wahab looked on, SEIU 1021's Evelyn Olivera said, "I work to support two separate divisions that have been hit the hardest during the pandemic. We're struggling to maintain to the support we give out directly to the community. I'm proud that all the working groups have gotten together to make things equitable. We're not asking for the moon, we're asking for equity so we can all stay here, to retain the talent, to continue with the support we give. If the pandemic has taught us anything, it's that we gotta come together, folks! We gotta come together.