SEIU 1021 marches in solidarity with the ILWU on Juneteenth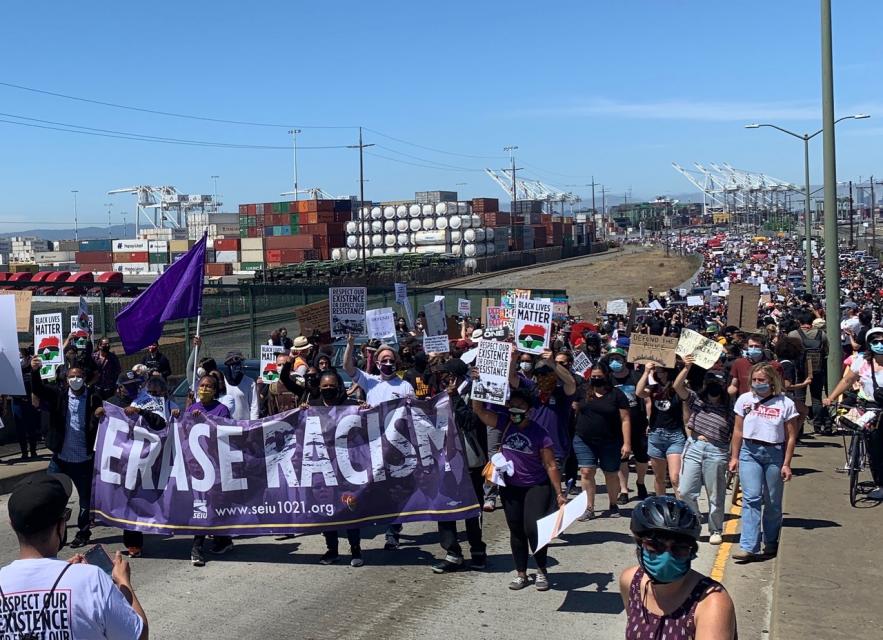 On Juneteenth, over 38,000 union dockyard workers shut down ports across the Pacific Coast ports in protest of the killings of George Floyd, Breonna Taylor, Ahmaud Arbery, and countless others. SEIU 1021 members were proud to participate in one the largest actions seen so far in solidarity with the nationwide protests against police brutality.
In Oakland, a crowd of thousands congregated at the Port of Oakland in the morning to hear remarks from ILWU leaders and other supporters, including legendary political activist and professor Angela Davis along with actor and activist Danny Glover.
"You represent the potential and the power of the labor movement," said Angela Davis to fire up the crowd. Following those remarks at the Port, the massive crowd marched through Oakland to Oscar Grant Plaza.
Outside Oakland's City Hall, the massive crowd heard from SEIU 1021 President Joseph Bryant, along with other local labor leaders and community activists such as director and musician Boots Riley, the family of Oscar Grant, the father of Michael Brown, who was killed by police in Ferguson, MO, and more.
"Juneteenth is a reminder where we came from and what we stand for. The truth is Black people in this country have lived in an unjust society since the time we were brought here. Today our fight against brutality and oppression continues. Our ancestors won freedom by standing up and fighting back, they were resilient people, and so are we," said SEIU 1021 President Joseph Bryant.
Coupled with the recent marches in San Francisco and the East Bay in recent weeks, unions such as SEIU 1021 and the ILWU are helping lead a discussion among labor around the importance of civilianizing of police departments while increasing city investments into community and social services.
"This is about putting action to words and getting results that are long overdue. SEIU recognizes our obligation to fight these racist injustices in our community and stand up for those are attacked," said Dwight McElroy, a Street Maintenance Leader for the City of Oakland and SEIU 1021 Chief Shop Steward for the City of Oakland.