SEIU 1021 Healthcare Workers Join The Picket Line as RNs Strike at San Leandro Hospital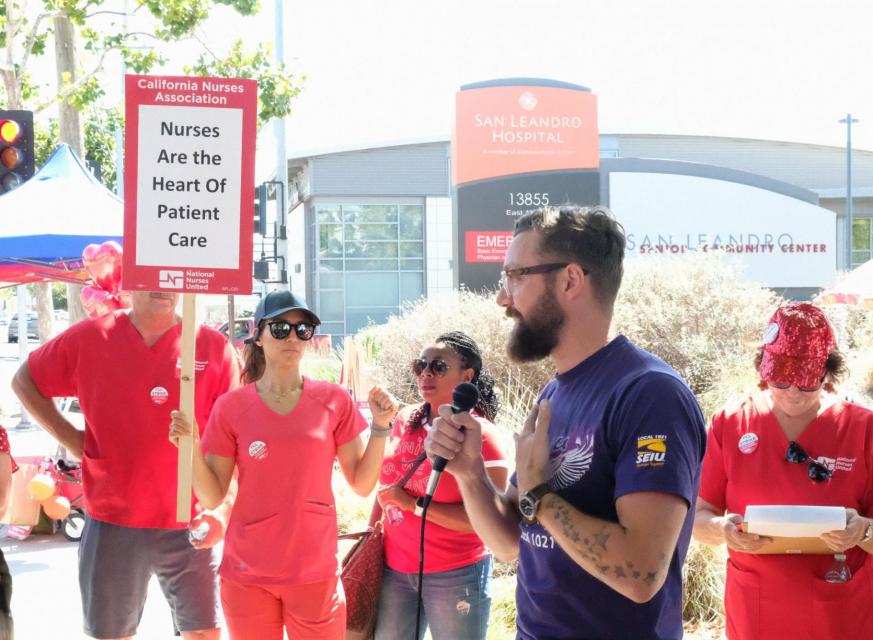 SEIU 1021 members stood on the picket line with Registered Nurses during their one-day strike at San Leandro Hospital on September 20. Nurses called out management's unfair labor practices and bad faith bargaining after negotiations stalled.
John Pearson, ER nurse and SEIU 1021 chapter president of Alameda Health Systems, felt it was important to show solidarity with the Nurses.

"We are in the exact same fight with Alameda Health Systems and we know that management is going to treat us the same way during our contract negotiations."
During the strike, hospital management, including the CEO and Chief Doctor Executive illegally photographed and videoed picketers on the line. A clear intimidation tactic, protestors were not phased.

Pearson, along with fellow union members are prepared for such situations.

"They've been trying to intimidate us leading up to this. There have even been bosses individually going up to every worker in several departments asking them if they're going to be on the picket line or showing up to work today," said Person.
San Leandro Hospital was not the only hospital on strike that Friday. Nurses statewide, in Arizona, and Florida, also held strikes to protest the unfair labor practices by management.