SEIU 1021 CONVENTION DELEGATE ELECTION NOTICE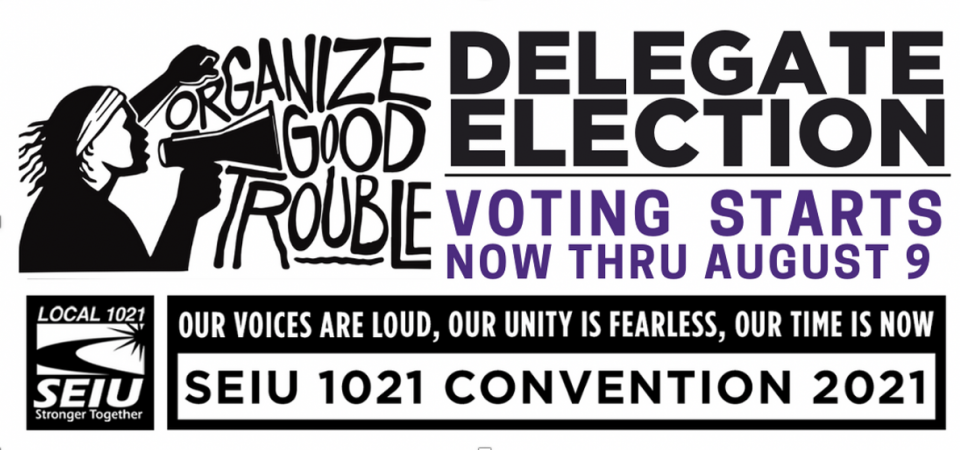 This year, the SEIU 1021 Member Convention is going virtual. Our goal is to bring our members together for a day of celebration, acknowledgment, and organizing around economic, climate, and racial justice.
Starting now, through July 22, 2021, convention delegate elections are taking place for the 2021 SEIU Virtual Member Convention. Delegates play an essential role in the convention by representing their chapter at the convention, communicating convention decisions to chapter members, and providing leadership with enacting the major plans and future projects of the Union which are approved at the convention.
All members in good standing who are available and committed to attending the September 25, 2021, virtual convention are eligible to run and serve as a delegate to the convention.
CHAPTER DELEGATE INFORMATION
The SEIU Courts chapter is entitled to four and should elect two (2) alternate delegates ranked by vote as Alternate #1 and Alternate #2.
NOMINATION PROCESS
Delegate nominations will take place from July 15 to July 22. Submit your nominations to Darryl Richardson by email at darryl.richardson@seiu1021.org
ELECTION TIMELINE
Nominations Start – Now
Nomination Period – 7-15 to 7-22
Election – Day 7-26
Vote Count- 7-27