At Santa Clara University, adjuncts and lecturers join the increasing wave of working people seeking to join together in a union, in the face of administrative opposition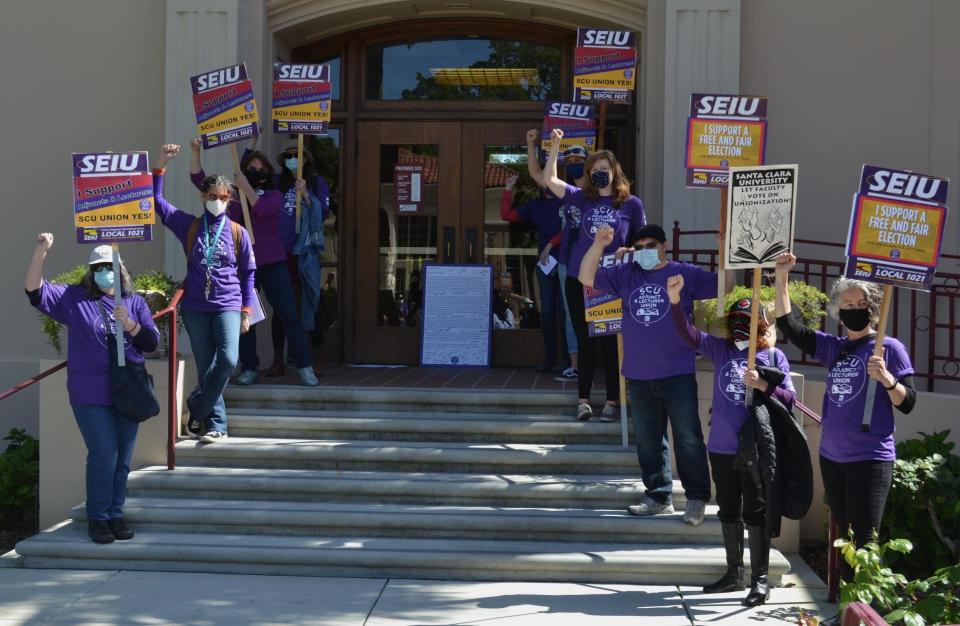 On Friday, April 9, at 2 p.m., adjuncts and lecturers at Santa Clara University, joined by their supporters, led a march and rally on campus to demand respect as well as a free and fair union election.
Since 2017, non-tenure track faculty at SCU have worked together to form their union with SEIU 1021. Workers are organizing to address the unstable working conditions, inadequate pay, and inequitable and non-transparent decision-making at the university. These efforts have met constant resistance from the university's administration.
The adjuncts and lecturers have asked for an election so they can vote on forming a union, and have asked that the election be held according to standard rules established by the National Labor Relations Board (NLRB). As Andy Wolfe, an adjunct lecturer in engineering at SCU for the past eight years, said, "We want the administration to uphold the same values we teach our students: respect for democracy, respect for the dignity of work, and the belief that every individual should have a voice."
Hundreds of members of the Santa Clara University community, including adjunct faculty and lecturers, students, and local elected officials, took part in the rally. Chants rang out celebrating the power that workers have when we come together as the crowd marched to deliver a letter to SCU administration calling on them to do the right thing. You can check out a video from the rally by clicking here.
Adjunct faculty and lecturers need a union to bring transparency and stability to a precarious working life, where they are required to re-apply for their positions every year or even many times per year, for ten or fifteen consecutive years. In addition to the precarious working conditions, the "Uberization" of teaching jobs in higher education, adjuncts point to wages that are not keeping up with the rising costs of living.
At the rally, hundreds of members of the Santa Clara University community, including adjunct faculty and lecturers, students, and local elected officials signed a letter to SCU administration, calling on them to do the right thing:
I urge you not to oppose unionization or interfere in the democratic decision-making of the faculty over their rights of representation, to ensure that adjuncts have all the rights and protections they would have under an NLRB process, and to support an election as quickly as possible.
Jesuit values are centered around fairness, social justice, ethics, and respect. For generations the Catholic Church and unions have both played a critical role in building the middle class, growing our economy, strengthening our workforce through faith, and maintaining fair working conditions. And as Pope Francis stated, "there is no good society without good unions."
Biology lecturer Dawn Hart said, "The life of a lecturer is not an easy life. I teach because I love it. I am full-time, and I've been full-time for years, and I can't afford to live where I work. I went to school, I got my PhD, but I can't keep up with the cost of living. In addition to better wages and benefits, I want my fellow workers to have transparency from the university and to have more say in their working conditions. People in our position deserve a union, and we're calling on the administration to honor our wishes and stop opposing it."
You can check out video from the rally by clicking here.