San Joaquin County Declares Illegal Impasse Amid Growing Protests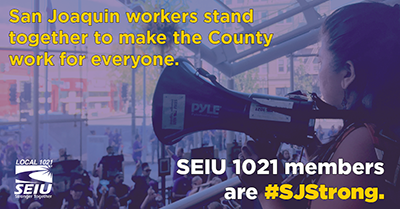 On Thursday, September 5, SEIU 1021 San Joaquin County workers rallied as part of their fight for a contract that invests in county services and workers.
During morning unity breaks at worksites throughout the County, SEIU 1021 members demonstrated for contract improvements that would improve services while boosting recruitment and retention.
"Our community members' lives are in our hands. We want our hospital to have educated, well-trained people to provide quality care. My number one job is to be a patient advocate, and that's why I love my job," said Kandice Crabtree, a patient care technician at San Joaquin General Hospital.
San Joaquin County has failed to bargain agreements with the majority of its bargaining units, instead choosing to escalate disputes with several unions including ours. Today, at our scheduled negotiation, the County declared impasse and refused to bargain – an illegal tactic it employed in the 2016 negotiations.
"The Board of Supervisors has a responsibility to delegate County money appropriately but it's obvious they don't—look at the homelessness, the drugs, the kids who are being kidnapped. There's plenty of money in the budget for this community to be great."
The County can afford to invest in services residents depend on and the people who provide them, as well as address infrastructure problems like the unsafe and inadequate sidewalks in many neighborhoods. So far management, has been unwilling.
"When we aren't supported properly, it makes it hard for us to do our jobs and support community who needs our help. If we aren't here, who's going to provide services? Is the Board of Supervisors going to come down and help parents who are receiving child support services or the families who need assistance?" asked Amanda Ayers, who works for the Department of Child Support Services.
"That's why we're pulling together right now to fight for a fair contract. It's important to us and it's important to our community."
As of last week, County workers' contract has expired.