Registration for the SEIU 1021 Virtual Convention for ALL members is now Closed!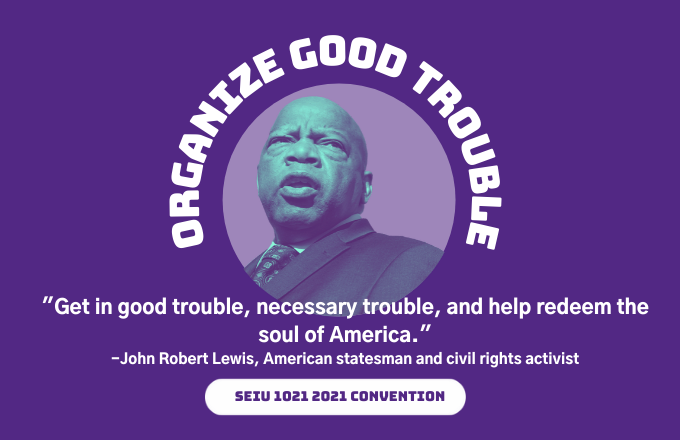 Registration for All Members of 2021 Virtual Convention of SEIU 1021 ended on September 10.
The 2021 SEIU 1021 Convention is only weeks away, and we've been busy lining up dynamic speakers, engaging workshops, and an amazing program. Our convention platforms will focus on six key areas of our work: Economic Justice, Racial Justice, Climate Justice, Unions for All, Reclaiming Our Democracy, and Member Unity and Power.
The best news? Convention registration for ALL members starts on August 27. We already have over 400 delegates that are attending the convention on September 25 from 10AM to 2PM.
During the convention, we'll also have "The Member Engagement Big Incentive" of $1000 in gift cards, given out FIVE TIMES during the convention program for present & engaged members who have their cameras on. You won't want to miss one minute! Delegates will also be our VIPs at the September 25 after-parties, which will take place after the convention in five locations throughout SEIU 1021's jurisdiction. We'll have dancing, food, and more.
This year's motto of "Organize Good Trouble" is inspired by American statesman and civil rights activist John Robert Lewis' quote: "Get in good trouble, necessary trouble, and help redeem the soul of America." Taking that inspiration of upholding the good fight for workers and working families as a union, we have created the following convention platforms:
Economic Justice
Racial Justice
Climate Justice
Unions for All
Reclaiming Our Democracy
Member Unity and Power
Learn more about the convention and our platform by clicking here.