Public Budgets that Lift Up Public Programs and Working Families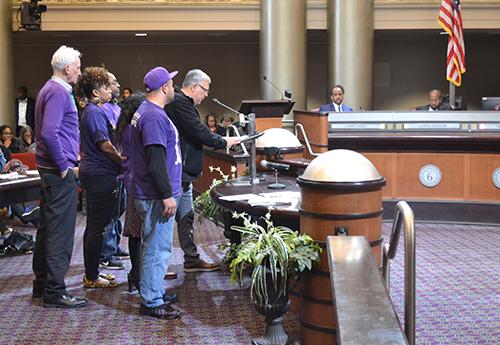 As cities, counties, schools, and other public agencies finalize their budgets, workers who provide vital services are speaking out and ensuring that elected officials are prioritizing programs that put working families first.
At budget forums across city, Oakland workers are standing up to tell City Council members that homelessness, affordable housing, and cleaner, safer streets are priorities for everyone who lives and works in the city, and that these problems demand restored staffing and funding levels.
"We want to provide residents with the work that's been long overdue, and do it in a way that relies on and invests in in-house equipment and workers that will give the city a way to maintain what has been improved," said Street Maintenance Leader Dwight McElroy, "We don't want to see conditions return to the unacceptable situation we have seen for years."
The city of Oakland has changed enormously in recent years. The years since the Great Recession have brought many new residents to the city along with incredible amounts of new construction. Meanwhile, long-time Oaklanders have struggled with skyrocketing costs of living, including an affordable housing crisis that has driven many out of their homes and even into homelessness. City of Oakland workers have stood up to take on these problems and provide solutions that work for the whole community, both at the bargaining table and at a recent series of City Council members' budget forums.
Dwight continued "We're glad to see the City trying to bring equity to the streets, but you can't do that unless you bring equity to the people working in those streets, too."
In nearby Solano County, Vacaville Unified School District workers packed the School Board Meeting to show unity in their fight for a fair contract. Classified school workers are the backbone of our school districts, from bus drivers, clerical support, to library assistants.
Anthony Manietta, Head Custodian of Stadium Game Operations at Vacaville High School, explained that many workers were being squeezed by the skyrocketing cost of living and are struggling to keep up, " We just want a fair raise that helps keep up with the cost of living."