With privatization looming, SF Housing Authority members band together to win a new agreement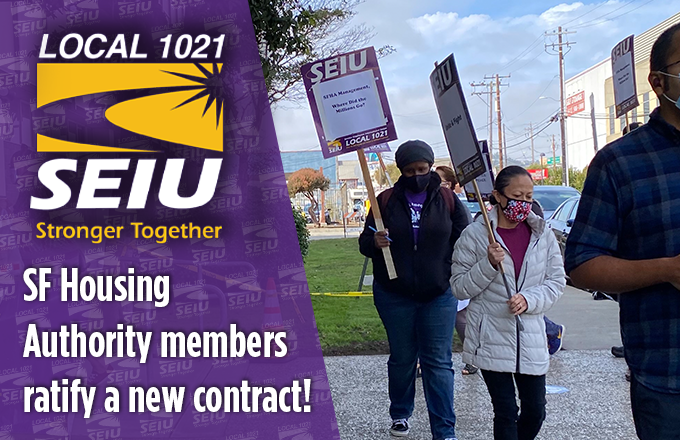 November 15, 2021: Congratulations to SEIU 1021 members at the San Francisco Housing Authority on ratifying their new contract by an overwhelming majority after a difficult fight. These members work hard to deliver safe, decent housing and economic opportunity for San Francisco's low-income households.
"I've been at the SF Housing Authority for almost 30 years and have been negotiating for about that long. It's always been a tough fight because SFHA hasn't historically had a lot of money. People here have been through a lot and negotiating sometimes feels like trying to squeeze water out of a rock—a rock that's getting smaller and smaller every year," said Adam Aguayo, a maintenance generalist. "These negotiations were different than years past because the privatization of the Housing Authority is right around the corner. We've always done the best we can to help residents, and I worry about what will happen to people who struggle with disabilities or mental illness. I don't believe there will be the same accountability and transparency once the Housing Authority is privatized."
Janet Gray, a property manager with 18 years of service at the Housing Authority, believes that it was the power of collective action that ultimately got this contract settled.
"We fought hard to make our voices heard—we spoke out at the Housing Commission meetings, we circulated a petition, we sent emails to the mayor, and finally we did an informational picket at the office on Egbert Ave–that one really got their attention. The following week they contacted the union with an offer," Janet said. "There used to be over 100 workers at SFHA, and now we're down to only about 22. We still banded together though, and that made me feel like we really had power. We may not have the numbers we once had, but we still have our collective voice and we made sure we were heard."
Adam agreed, saying, "Before the picket, management was really insulting us with their offers—they wanted to give us nothing and take everything away. After we took action together, they changed their tune."
After the picket, management came back to the table and accepted everything in our union's last counteroffer, including:
A $1500 one-time payment to the bargaining unit
5 people can request to be laid off earlier by April 2022 as opposed to September or December of 2022 and receive severance earlier
One hour of floating holiday per 8 hours of reporting to work during the pandemic for up to 80 hours
At the end of the day, though, Janet stressed how much workers just want to serve residents despite all these challenges, saying, "My workload has increased tremendously since the layoffs. We do everything we can to care for our residents no matter what—they are our number one priority. It might take us a little longer than we'd like because of the short staffing, but everyone still steps up to make sure things get done."