Pride Roundtable Discussion 2020: Queer Uprisings Against Police Brutality of the Past, Mirror the Uprisings of Today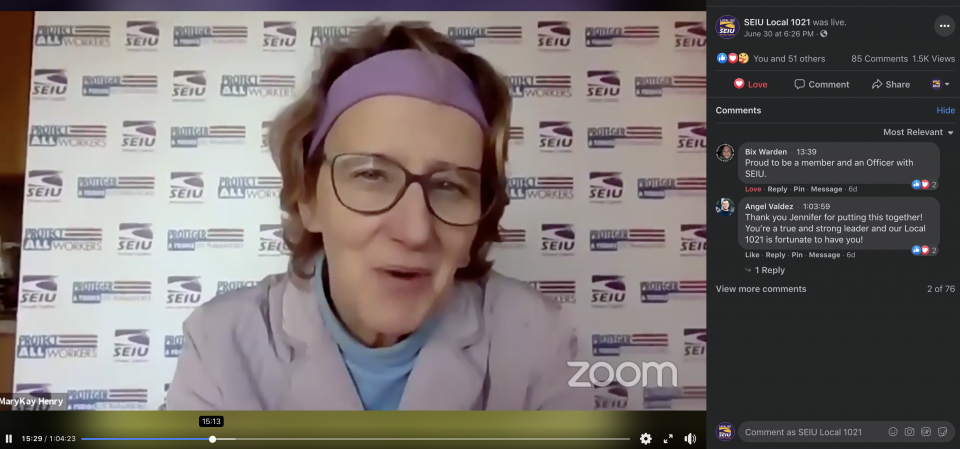 To commemorate PRIDE month, SEIU 1021 members hosted a live virtual roundtable discussion with LGBTQ superstars on June 30. The event was broadcasted on the SEIU 1021 Facebook page and kicked-off by Jennifer Esteen, SF DPH RN and SEIU 1021Organizing VP, who set the tone by reflecting how queer rebellions of the past, mirror the uprisings of the Black Lives Matter Movement.

"We are broadcasting from the SF Bay Area, which is home to the first queer uprising that happened in San Francisco at Compton's Cafeteria, where people were done, tired and fed-up with being beaten, abused, arrested and unfairly treated simply because who they were, how they looked and who they loved. Black transwomen stood up and said no more. This is something we are seeing more and more every day. People are fed-up and tired of being hurt and harmed by those that are supposed to protect us," said Esteen.

SEIU 1021 President Joseph Bryant followed by revealing a surprise guest of honor– out-lesbian and SEIU International President, Mary Kay Henry.

"I carry two emotions side by side inside of me each minute of every day. Grief and total outrage—about the crisis our members are facing—a public health crisis, economic crisis and racial inequality crisis. We are going to use this moment in time as a moment of reckoning. Our union is fighting back because what is going on now is not working for us," said Henry.

You can watch a full recording of the event on the SEIU 1021 Facebook Page. Watch the roundtable discussion featuring Drag Superstar & Politico Honey Mahogany, Kaylah Williams, Lawyer Arcelia Hurtado, and SEIU 1021 Executive Board Member Tula Biederman.