People with Developmental Disabilities and Their Service Providers Call on Gov. Brown to Restore Funding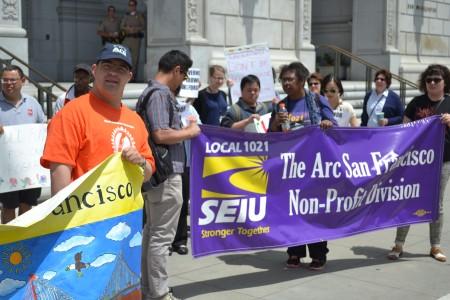 Gov. Jerry Brown has ignored people with developmental disabilities in his budget. They, along with their service providers, feel betrayed. Budgeted at 1990 levels, and with over $1 billion cut by the state from their bottom line, California's DD system is on the verge of collapse—and Jerry Brown has proposed doing next to nothing to save it.
"The clients we serve don't progress because funding has been cut, and we who provide services can't make ends meet," says Gary Gregerson, a direct service professional who has worked for over 17 years at the Arc of San Francisco, an agency that provides training in independent living, job coaching and employment placement, and recreation to adults with cognitive and intellectual disabilities. "I love what I do, but I have thought about changing careers. I can't continue to live on $30,000 a year."
Adults with developmental disabilities and their service providers rallied outside the California State Building in San Francisco on Thursday, May 15, to call attention to this serious problem–and to demand that Gov. Jerry Brown address it in his budget.
Gov. Jerry Brown campaigned on promises to restore funding to public services. SEIU 1021 endorsed him and campaigned for both him and his initiative, Prop 30. However, he seems to have forgotten people with developmental disabilities. His current budget proposals do nothing to restore funding to a system that has endured over $1 billion in cuts and is underfunded by over 30% annually.
All individuals in California with developmental disabilities (DD) such as autism, cerebral palsy and cognitive disabilities are guaranteed access to services to help them lead full, productive lives in the community through the Lanterman Act of 1969.
A network of 21 nonprofit Regional Centers, funded by the state and federal grants, connects these individuals and their families with the services best suited to their needs, and pays the service provider agencies for those services.
Three decades of direct funding cuts accompanied by unfunded mandates have resulted in a system that can no longer afford to recruit and retain qualified service providers or case managers and that cannot afford to meet mandated staffing ratios. This severe underfunding has not only caused unmanageable case loads, wait lists for services and deterioration of the quality of services, it has also jeopardized federal grants the system depends upon just to stay afloat.