Parents and School Workers Bring 'Rotten Apples' to Trump, McConnell and Betsy Devos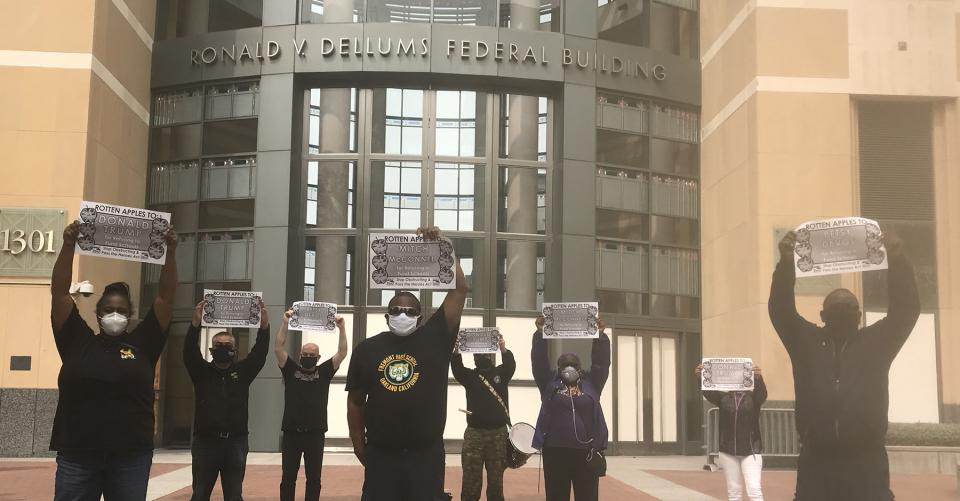 On September 11, Bay Area parents and school workers demanded that the Senate pass the HEROES Act to keep kids and workers safe. In front of Oakland's Dellums Federal Building,they rallied, sang and brought 'Rotten Apple' signs to Donald Trump, Mitch McConnell, Betsy Devos for refusing to fund our schools.
As part of the national week of action, SEIU members targeted politicians that are obstructing the passage of the HEROES Act. The Act would bring $58B— nationally —for our schools. Without resources from the federal government, kids and workers won't have what they need to keep themselves safe, smoothly transition to distance learning, or ensure that every kid can thrive no matter their zip code.
Donneva Reid works for the Oakland Unified School District and is concerned by the lack of resources to keep kids safe during the pandemic.
"As an essential worker, I don't see a plan in place for the kids. Our kids are suffering because they need interactions with other kids in order for them to thrive. We need the Heroes Act passed in order to fund public schools and to provide adequate PPE when schools reopen," said Reid.
The HEROES Actwill bring in new federal funds to our public workers who keep our communities running and will invest in our healthcare system and in and all public schools so that they can keep kids safe and provide quality education. The Act would also increase pay for essential workers, fund paid sick leave, and ensure our access to the ballot. Email the Senate today.