Over 850 Behavioral Health and Clinic Workers to Join SEIU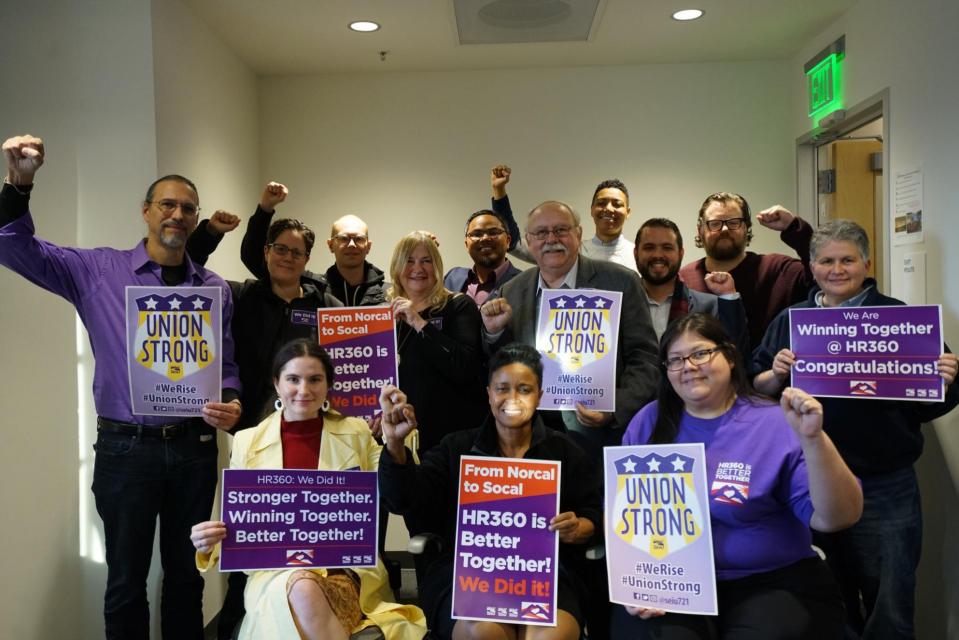 More than 850 HealthRIGHT 360 clinic and behavioral healthcare workers have voted to unionize with the Service Employees International Union on December 16. Months of organizing culminated in the historic vote Monday night, with 73% of HR360 workers at over 100 clinics in Northern and Southern California choosing to unionize by signing authorization cards. The workers will join SEIU Local 1021 in the Bay Area and SEIU Locals 721 and 221 in Los Angeles and San Diego, respectively.
"When we first started talking about forming a union, things changed. It wasn't so much about workers fighting with management, as it was about stepping up, trying to fix things, and taking it up a notch. It was about re-committing to the work we do, to HealthRIGHT, to our clients," said Julia Klems, a Hepatitis C Care Coordinator in San Francisco.
Former State Senator Mark Leno served as a neutral third-party administrator to help certify the choice of the HealthRight360 employees, who provide treatment for mental health and substance use disorders, compassionate medical care, and other services to people across California.
"This vote has been a long time coming and it's a testament to the hard work and dedication of these healthcare workers who recognize that unions are key to having a true voice on the job," Bob Schoonover, president of SEIU 721 and SEIU California said. "There's no shortage of evidence that workers are better off with unions than without and that's why we believe in Unions for All: every worker deserves a union."
In reaching a majority vote, employees met with organizers at their worksites, spoke to co-workers during home visits and participated in pro-union activities, which contributed to the groundswell of support.
"Building a union does not stop today. What follows is a bargaining process that is a continuation of a partnership between HealthRight360 and the employees who work hard every day to provide compassionate, quality care to the people who need it most, now through representation by SEIU," said Joseph Bryant, SEIU 1021 President.
The workers' unionization effort covers: nurses, substance use disorder counselors, medical assistants, recovery coaches, mental health therapists, medical technicians, receptionists, medical records and billing clerks, and schedulers.
Next steps include employees electing a bargaining team and completing surveys to determine which issues will be addressed while negotiating their first contract.
Veronica Rosales, a Substance Use Disorder Counselor from Pomona, said having a union means the job she loves will now be even better.
"It's exciting and to see what we've worked on being a reality is so rewarding," she said. "My biggest thing is client care and I believe having a union will improve things all around because employees who are taken care of provide better services."
HealthRIGHT360 was formed in 2012 through the merger of two community-based nonprofit healthcare agencies. The organization serves more than 300,000 people annually statewide.