Open registration for the SEIU 1021 2021 Virtual Convention opens on Wednesday, August 25!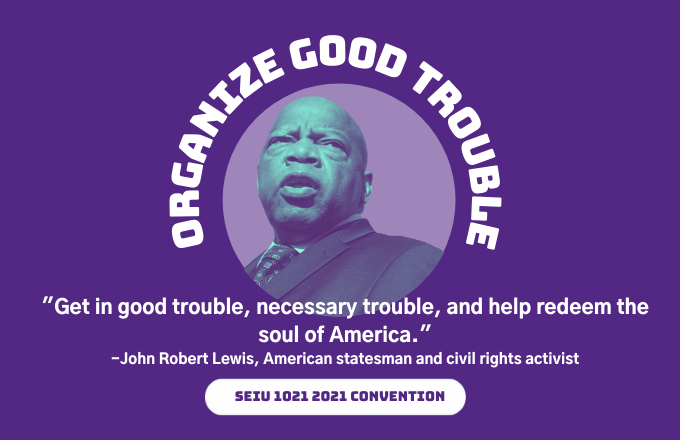 This year's motto of "Organize Good Trouble" is inspired by American statesman and civil rights activist John Robert Lewis' quote: "Get in good trouble, necessary trouble, and help redeem the soul of America." Taking that inspiration of upholding the good fight for workers and working families as a union, we have created the following convention platforms:
Economic Justice
Racial Justice
Climate Justice
Unions for All
Reclaiming Our Democracy
Member Unity and Power
The convention platforms are more than just titles or headers. These platforms will determine where we focus our organizing efforts, what political movements we will support, and what stance we will take on social issues as a union.
"Unions for all is a platform that says exactly what it is—we want to make sure that everyone in this nation has an opportunity to get access to a union. We have to build power, and power only comes one way: by joining together, by raising our fists, by being the organizers that we are and building our strength. Employers will continue to drive the standards of work lower and lower. SEIU 1021 is an organizing union, and we believe in bringing rights, dignity, and access to a contract; not a promise that can be broken, but a legally-binding contract, which is what every worker deserves," said Jennifer Esteen, RN and VP of Organizing for SEIU 1021.
Registration is required and guests will receive a Limited-edition Convention t-shirt and SEIU 1021 baseball cap. To register or learn more, call our Member Resource Center at 1-877-687-1021. You can also click below to register.
During the convention, we'll also have "The Member Engagement Big Payout" of $1000 in gift cards, given out FIVE TIMES during the convention program for present & engaged members who have their cameras on. You won't want to miss one minute! Delegates will also be our VIPs at the September 25th after-parties, which will take place after the convention in five locations throughout SEIU 1021's jurisdiction. We'll have dancing, food, and more!
The SEIU 1021 2021 Convention is for members only. Open registration for our convention begins on Wednesday, August 25. To register, click here or call our Member Resource Center 1-877-687-1021.