Oct 30: Preserve Equal Access to Care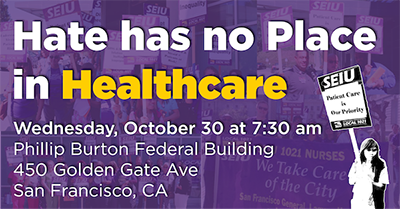 At 8 am on October 30, a federal judge will hold a hearing on a final rule change by the Department of Health and Human Services (HHS). This rule would permit employees to refuse to assist in care based on their individual religious beliefs, without consideration for the impact on patient care.
SEIU 1021 members and our allies will hold a press conference and ceremony outside the Courthouse at 7:45 am to oppose this rule and affirm our commitment to accessible care.
"Public healthcare has been under attack at every turn throughout the Trump administration—they've threatened to withhold federal money from sanctuary cities, they've attacked the Affordable Care Act (ACA) from every angle, and have targeted anti-discrimination protections for LGBTQI people in the ACA. This final rule change by the Department of Health and Human Services (HHS) is part of a larger, coordinated effort to erode equal access to healthcare services in this country," said SEIU 1021 member Sasha Cuttler, RN.
Our work is critical to the health, safety, and wellbeing of our communities. We must speak out against this rule that will destroy healthcare workers "duty to care" and allow religious objections to care for LGBTQI people, women, and others.
RSVP on Facebookand join us outside the Courthouse on Oct. 30 at 7:30 am and help preserve equal access to care and protect the safety and dignity of patients.