Oakland Unified School District Staff Take a Stand for COVID Safety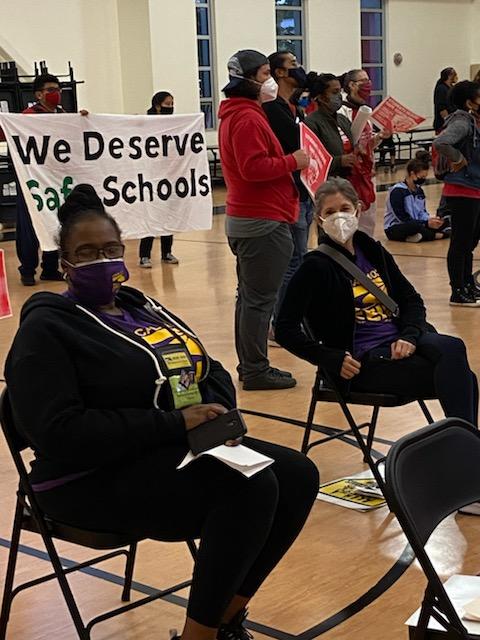 October 12, 2021: Even as Oakland Unified School District (OUSD) management applaud themselves on the success of COVID-19 protocols, their staff, SEIU Local 1021 members, and educators, members of the Oakland Education Association (OEA), see a lot of room for improvement. Last Wednesday, October 6, they came to the 1021 bargaining table in solidarity to demand that the District management team immediately take a number of commonsense safety measures to protect the OUSD community. District management's failure to properly uphold some of their own protocols and to take the concerns and solutions offered by their staff and educators seriously is putting school employees, students, their families, and the larger community at unnecessary risk.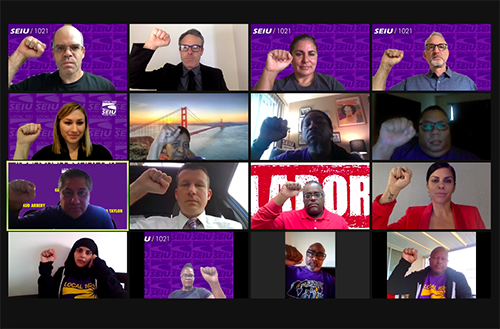 1021 members from OUSD also came out and participated in a rally alongside OEA educators ahead of the special OUSD School Board meeting Wednesday afternoon to make their voices heard loud and clear by the School Board, District management, and the larger community.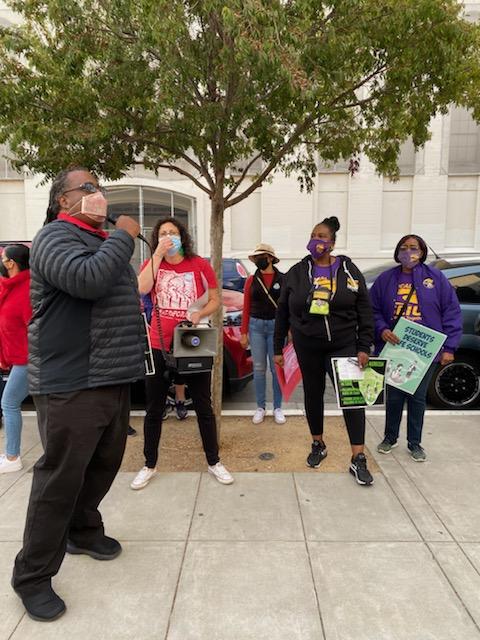 Some key issues at hand: clarifying and implementing an adequate, reliable PCR testing protocol for students, staff, and educators, including through mandatory, once-per-week PCR testing, with increased transparency around when and where COVID-19 cases have been identified; extending the supplemental paid sick leave created by Senate Bill 95 that expired September 30 until the pandemic ends, to ensure that any school employee with symptoms or who has been exposed can protect the school community without sacrificing their ability to pay the bills; clarifying, monitoring, and upholding mask mandates in school and during outdoor activities, including by adding part-time monitors for lunch periods; and improving cleaning protocols District-wide.
"While students, staff, and educators are all required to wear masks both indoors and outdoors on school grounds, so far, there has been no consistent mechanism to uphold these mandates," explained Phyllis Copes, an administrative assistant and president of SEIU Local 1021's OUSD chapter. "That results in too many instances where students continually remove their masks or refuse to wear them, exposing their classmates, educators, and staff, with no real accountability."
"Some of what we're hoping for include stricter testing protocols to make sure that isolated cases don't become outbreaks; extending the supplemental sick leave provided by Senate Bill 95 that expired at the end of September, so that no one has to choose between keeping our students and colleagues safe and paying their bills; and protocols and mechanisms to ensure that, as we head into colder months, we have policies and protocols in place to keep our kids safe, warm, and comfortable during nutrition breaks," said Donneva Reid, principal account clerk and vice president of the SEIU Local 1021 OUSD chapter. "We are glad very glad to be on the same page as the educators of OEA in these priorities–our voices are stronger together."
"Even though students are back in the classroom, and caseloads are down, we know we cannot take classroom safety or the progress we have made combatting this pandemic for granted. There are still many safety issues within OUSD that need to be addressed, and if we do not resolve them now, we are worried for the safety of our students in the coming months. We are proud of our partnership with SEIU Local 1021 in advocating for what is right, because there is greater strength in numbers," said OEA President Keith Brown.
While staff represented by SEIU Local 1021 and educators represented by OEA have been bringing these issues to district management for months, so far, their concerns and proposed solutions have been ignored. And while COVID-19 cases ebb and flow county-wide, certain parts of Oakland continue to experience higher rates of community transmission.
"County-wide statistics don't tell the whole story, and we have also seen how case numbers can fall for weeks, only to jump up again unexpectedly. Now is the time to get our protocols in order, along with mechanisms to uphold them and the equipment, like outdoor heaters and overhangs to allow more students to eat outside without being piled on top of each other, before winter gets here and we face a potential surge," said OEA Second Vice President Chaz Garcia.
OUSD staff and educators are tired of waiting for a major outbreak to force District management to implement and uphold commonsense safety measures. They are mobilizing to show up at the special meeting of the OUSD School Board starting at 6pm today and demand fast action to address their proposed solutions. "It is unacceptable that we have been negotiating these measures that are such basic common sense for so long," said Phyllis Copes. "We need action now, and we are going to make sure they know we mean business. The safety of our students, staff, educators, and all of our families is on the line."