Oakland Fast Food Workers Strike as Fight for $15 and Union Rights Intensifies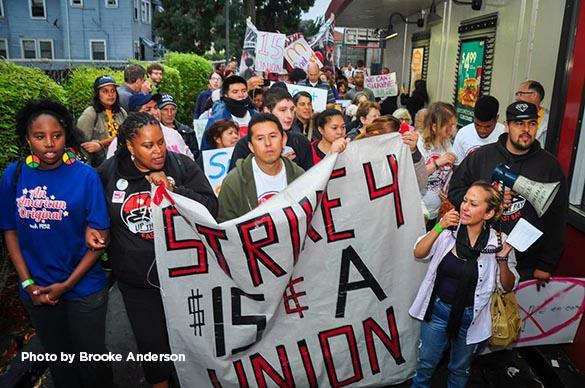 Thousands walk off their jobs in 150 cities, calling for higher pay, union rights
Oakland fast-food workers— many wearing their uniforms from restaurants like McDonald's, Burger King and Wendy's—were among the more cooks, cashiers and maintenance workers arrested Thursday as the fight for $15 and the right to form a union intensified across the country.
From Charleston, SC to Chicago, Ill., workers walked off their jobs and took arrests to show that they can't wait any longer for companies like McDonald's to raise their pay. Workers went on strike at more than 1,000 stores, chanting "We Believe That We Will Win," and vowing to do whatever it takes to secure higher wages and union rights.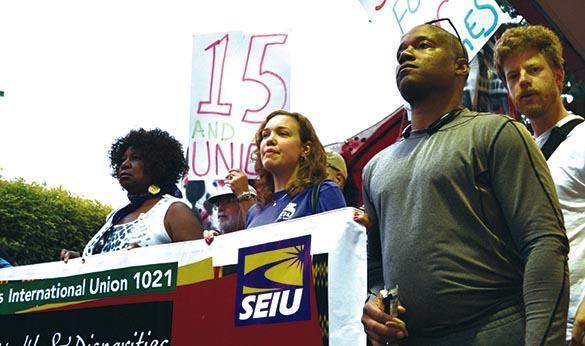 SEIU 1021 members, SEIU International President Mary Kay Henry, and community supporters marched and rallied in support of Oakland workers, who walked off their jobs at a McDonald's on Martin Luther King Blvd.
"I live with roommates because I can barely keep a roof over my head on these low wages, sometimes I don't make enough in a month to pay my own rent," Irvin Ortega, 25, who has worked for McDonald's for 2 years and makes $9. "I know that I am not alone and I believe that if stick together we will win $15 and a union."
Support also came from around the world. Fast-food workers from three continents traveled to the U.S. to participate in strike lines in New York, Chicago, Los Angeles and Raleigh
"Like workers in the United States, fast-food workers in Korea are struggling to scrape by on low wages, with haphazard schedules," said Lee, Ga Hyun. "We're inspired by the courage of the workers here and are excited that what they have started is spreading around the world."
Also Thursday, fast-food workers announced a six-country, three-continent fall tour, during which they'll meet with fast-food workers to share lessons of their campaign. They will visit with unionized McDonald's workers making living wages of more than $20 an hour in countries like Denmark and non-union workers who earn low wages in countries like Brazil.
Thursday's strike follows a series of major victories for fast-food workers. In July,the National Labor Relations Board's general counsel determined that, despite McDonald's repeated claims, the company is a joint employer that exerts substantial power over its employees' working conditions. For nearly two years, McDonald's and other fast-food workers have been joining together and going on strike, calling for $15 and the right to form a union without retaliation. But time and time again, the company and other industry players have tried to sidestep workers' calls, inventing a make-believe world in which responsibility for wages and working conditions falls squarely on the shoulders of franchisees.
The NLRB move shows that McDonald's can no longer hide behind its franchisees for the poor and often illegal treatment of workers. The government's determination is the latest challenge to the fast-food industry's low-wage business model, in which franchisors reap rewards of a profitable industry, while forcing franchisees to shoulder all the risk. In March, McDonald's workers in three states filed class-action lawsuits against the company, alleging widespread wage theft. The New York Times wrote that the suits, "argue that both the corporate parent and the independently owned franchises where many of the plaintiffs work are jointly responsible for illegal pay practices carried out by the franchises…That strikes at the heart of the low-wage fast-food business model."
And last month, the California state legislature passed a bill that expands the rights of franchisees statewide and brings greater balance to the franchisor-franchisee relationship. Huffington Post wrote that the fast-food industry "lost a really big fight," while MSNBC called the bill a "major blow" to fast-food chains. By protecting franchisees from being put out of business arbitrarily and ensuring they can sell to qualified buyers, the legislature took a critical step toward correcting the imbalance of power between franchisors and the franchisees and workers who contribute to the success of fast-food restaurants in California.
A campaign that started in New York City in November 2012, with 200 fast-food workers walking off their jobs demanding $15 and the right to form a union without retaliation, has since spread to more than 150 cities in every region of the country, including the South. The growing fight for $15 has been credited with elevating the debate around inequality in the U.S. MSNBC's Chris Hayes said that it has "entirely changed the politics of the country." Since the campaign launched, nearly 7 million low-wage workers have seen their wages rise. What seemed like a far-fetched goal–$15 an hour–is now a reality in Seattle, where Bloomberg News said the city adopted "the rallying cry of fast-food workers."
As it spreads, the movement is challenging fast-food companies' outdated notion that their workers are teenagers looking for pocket change. Today's workers are mothers and fathers struggling to raise children on wages that are too low. And they're showing the industry that if it doesn't raise pay, it will continue to be at the center of the national debate on what's wrong with our economy.
As corporations push down real wages for average American workers, a growing number of economists warn that low wages are a barrier to growth that are harming the overall U.S. economy.
Not only do fast-food jobs pay so little that a majority of industry workers are forced to rely on public assistance, but many workers don't even see all of the money they earn. In addition to the class-action suits filed against McDonald's alleging widespread and systematic wage theft, a poll by Hart research showed 89% of fast-food workers have had money stolen from their checks.
The fast-food worker campaign has fast-food companies back on their heels. In a filing with the Securities and Exchange Commission, McDonald's said worker protests might force it to raise wages this year. A recent report shows the industry has by far the largest disparity between worker and CEO pay. New York City Comptroller Scott Stringer said, "Excessive pay disparities pose a risk to share owner value," and that conversations around inequality should move into the boardrooms of profitable fast-food companies.
USA Today called the growing worker movement, "the issue that just won't go away" for the fast-food industry. Indeed, Thursday's arrests show that rather than going away, the movement is only growing stronger.