Nurses, elected leaders in San Francisco speak out, call for equity, transparency, and education in vaccine distribution plan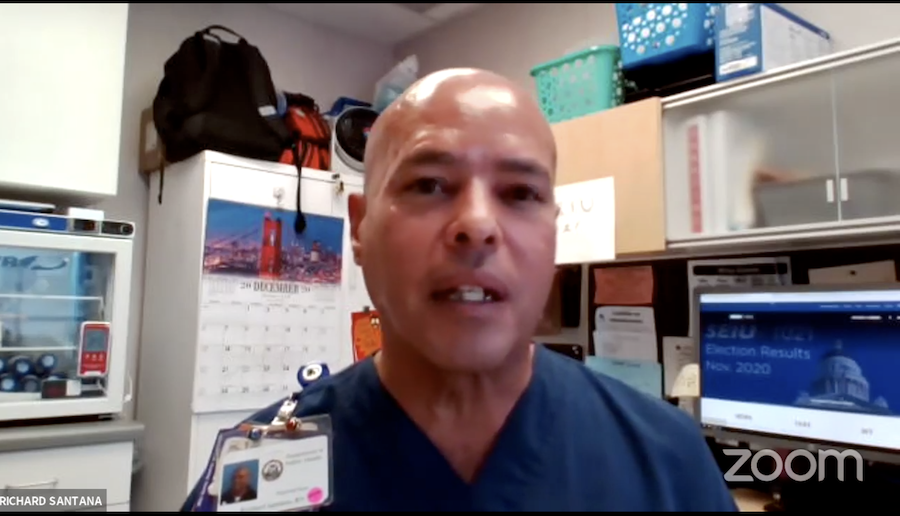 Check us out in the news:
On Wednesday, December 23 healthcare worker members of SEIU Local 1021 will hold a press conference on Zoom at noon calling for a transparent, equitable, and evidence-based distribution plan for the COVID-19 vaccine. Workers will also share stories of their own personal COVID-19 vaccination experience to help boost confidence in the safety and efficacy of the vaccine.
"I am proud to have received the COVID-19 vaccine, which was quick and easy, so that I can have peace of mind while continuing to care for my patients and community. We are encouraging SEIU 1021 members to take the vaccine as it becomes available so that we can do our part to stop the spread of COVID-19 while continuing working on the frontlines to provide San Franciscans with the services they need," said Kristen Silloway, SF General Hospital Registered Nurse. "We are also calling for California to commit to vaccine distribution plans that are both equitable and transparent, while prioritizing workers and communities hardest hit by the virus. Vaccine distribution plans must include education and community outreach activities that involve frontline workers like us."
"When I was given the opportunity and was invited to receive the COVID-19 vaccine, I decided to say yes. As an RN who believes in science, the scientific method, and the nursing process, I said yes. As a Latin person of color, I said yes because our community is being infected and dying in alarming rates. I said yes with the understanding if I get vaccinated, I am able to be an active part of the solution of diminishing this pandemic and the incidents of transmission. I said yes and I implore all of you listening—whether you're Hispanic, Latinx, brown, Black, any nationality—I implore you to say yes," said Richard Santana, an RN at SFGH and 1021 member.
SEIU 1021 will continue to hold employers and corporations responsible for ensuring all working people have the appropriate PPE and equipment, as well as guaranteeing paid sick time and quarantine leave, and providing free testing and treatment.
"As workers across the country are demanding that elected leaders and employers respect us and protect us, we demand that the health and safety of every worker be assured through the distribution of safe, reliable, and widely accessible vaccines. We also demand that the distribution be done through the lens of diversity, equity, and inclusion—sensitivity to the cultural challenges that Black and brown people have faced historically in healthcare and with sensitivity to that reality," said Theresa Rutherford, SEIU 1021 VP of San Francisco and a CNA at Laguna Honda Hospital. "A distribution plan must include internal education and engagement of frontline workers to make sure all working people can make informed decisions about the vaccine, can participate in public education efforts and vaccination. Frontline workers such as bedside nurses, CNAs, LVNs, and workers who have direct contact with the public must be given priority."
We were joined at our press conference by current and incoming members of the San Francisco Board of Supervisors, including Board President Norman Yee, Ahsha Safai, and incoming D7 Supervisor Myna Melgar.
"Through education and access and ensuring that those that are the most impacted, like the Black community and the Latinx community and others hardest hit from this, we should do an extra job of educating and making this accessible to them. And that's how it should be in the initial phases," Supervisor Ahsha Safai said.