Non-Ranked Faculty at California College of the Arts use their talents to turn job insecurity into art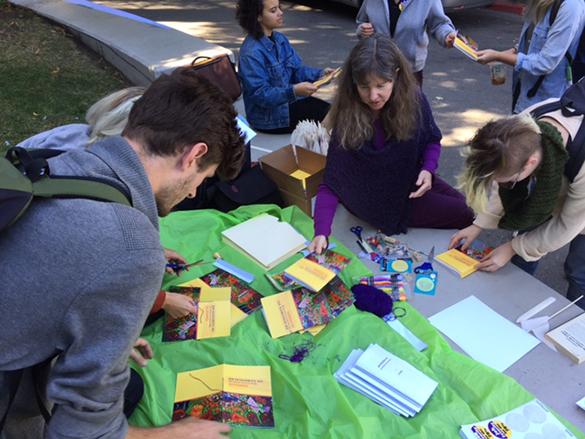 Transforming conflict into art is what artists do, and adjunct faculty at California College of the Arts (CCA) have embarked upon a project that combines the disciplines of memoir, visual arts and bookbinding to create a powerful statement about the precarious nature of their profession.
Adjunct, or non-tenured, faculty at CCA make up 78 percent of the educators there. But they work semester-to-semester without job security, benefits or a livable wage. Working with organizers from SEIU Local 1021's Faculty Forward campaign, CCA adjuncts collected stories of precarity for a chapbook (a small, paperbound, handmade literary pamphlet). Told in the unmistakable cadence of academics, these stories bring home the stark reality of being highly-educated and working for near poverty wages:
"There are also semesters when none of the schools hire me, and so on the rare occasion when I am offered a full load at more than one school, I have to take on everything at once, since I never know how long I'll have to make my paychecks last.

Job insecurity means that no matter how long I have taught at CCA, or how well I teach, or how much work I publish, how many meetings I attend, how many committees, reviews, panels, or other sorts of service I do for CCA, no matter how hard or well I work, in any year for any reason (or no reason at all) I could lose my job.

Every summer I spend months preparing my courses for the year without any commitment from the college that I will actually be teaching those courses."
On October 6, the CCA adjuncts held a "bind-in" on campus, with skilled practitioners of Book Arts mentoring other faculty and students to put the stories of the chapbook together with a visually-striking cover. The result is a multi-disciplinary work that displays the skills CCA adjunct faculty possess to do the jobs they love, but also expresses the deep fear and insecurity doing the job causes them.