Mills College Staff Workers Vote to Join SEIU 1021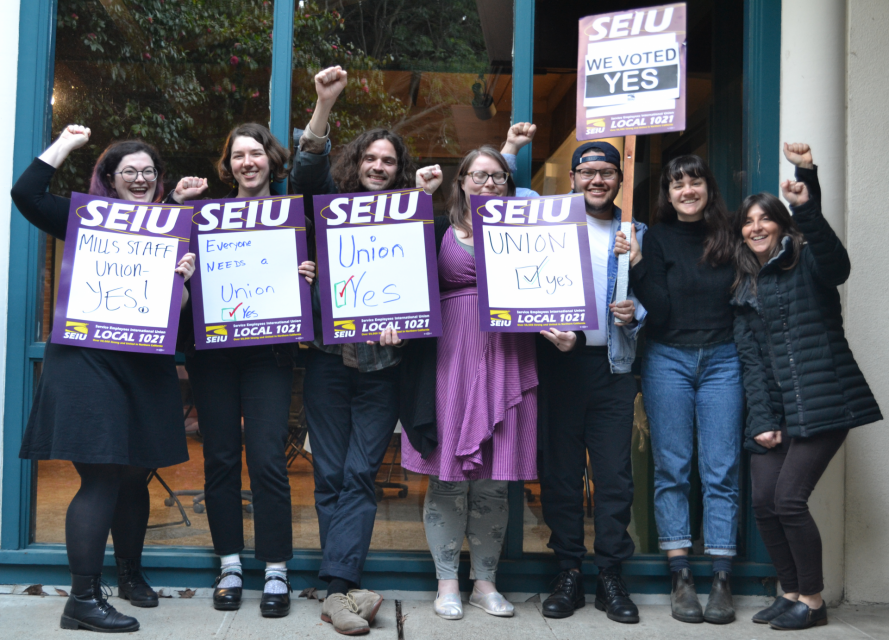 On March 11, employees of Oakland's Mills College voted overwhelmingly to form a union. Nearly 95% of the votes cast were YES votes. Staff members unite with the adjunct facility in SEIU 1021 to improve student learning and working conditions at the college. Adjunct faculty voted to join SEIU 1021 in 2014.

The staff union will represent roughly 180 workers across the school, including administrative staff, audio-visual staff, library workers, information technology specialists, children's teachers and teachers' aides in the on-campus childcare facility, researchers, and office workers across departments, including admissions, fundraising, and financial aid.
Mills has been struggling with a budget crisis for several years, and its employees saw a union as the best way to ensure a strong future for the school. As library worker Corinna Burrell said: "I am thrilled with the resounding success of the vote. I was confident we'd win, but a 94.7% majority sends an unequivocal message that we are united, we have our coworkers' backs, and we are ready to fight together for the future of Mills." She added, "On a personal level, I am so grateful for the incredible work my colleagues have done in the last year to bring us all together. They're all amazing people and have worked so hard for this moment–it's an incredible win for all of us."