Mendocino County Workers Win Historic Agreement to Fund Public Services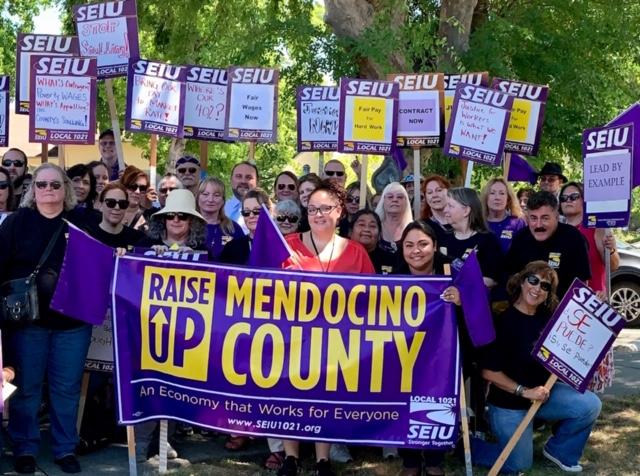 On August 13, Mendocino County members approved their agreement with the county that includes a 9% base wage increase over three years and additional equity wage adjustments for a majority of SEIU 1021 represented positions. Public services have suffered as the County's workforce investments have lagged behind comparable employers. The deal was approved by the Board of Supervisors on August 20.
"This historic and transformative agreement will not only address wage parity with surrounding counties but it will also have an immediate impact on recruitment and retention. Approval by the Board of Supervisors shows clearly that the Board and the Administration has heard us. We are confident that Mendocino county will benefit tremendously from this change both financially and spiritually and will continue to pay dividends to the dedicated County staff from Point Arena to Covelo," said Mendocino County Chapter President Troyle Tognoli.
As part of their Raise Up Mendocino County contract campaign, county workers took their message to local small business owners and residents about the need for the county to invest in public services and the dedicated workforce that provides these services.Workers contended that substandard wages paid by the county had created problems in recruitment and retention which had led to a decline in services available to the county's residents.
"This contract is one of the best I've ever seen in 20 years of employment with the county. It's not everything to everyone, but it's a giant step towards equity, and is the result of hundreds of hours of effort by our SEIU 1021 staff, negotiating team, and members who showed up at the various labor activities," said former chapter President Kort Petterse.