Members Stand Up for Public Health at Alameda Health System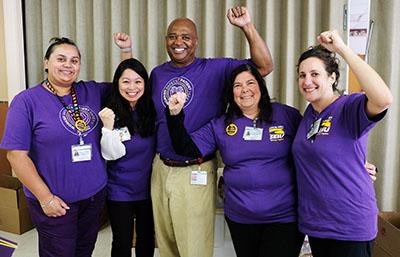 Alameda Health System members of 1021 are standing strong in the face of pervasive mismanagement and constant attacks on public healthcare. In recent months, AHS (mis-)management has attacked our members repeatedly, threatening layoffs, trying to kick members' families off of their healthcare plans, and even attempting to deny SEIU 1021 representatives access to AHS facilities where those representatives work.
Members aren't taking these attacks lying down, though. Last week, they marched on the executive offices at Highland Hospitaland had a lunchtime meeting at Fairmont Hospital, and more actions are being planned.
AHS Chapter President John Pearson said "We all see how short-staffed we are, how under-funded we are, how long our patient wait times are. AHS management makes all kinds of claims about their goals, and about how good their intentions are, but the actual impact their actions are having on the world is to take jobs and benefits away from people who need them, and to take healthcare away from the poorest members of our community. They're making excuses for lowering standards and delivering less care, but our members know that if we all pull together, we can make a difference for ourselves and our patients."
Learn more at AHSFight.org.
If you are an AHS member, click here to take the Bargaining Survey and click here to nominate yourself or someone else to serve on the elected Bargaining Team.