Members purple up, fight back, and win a strong new agreement at Community Action Marin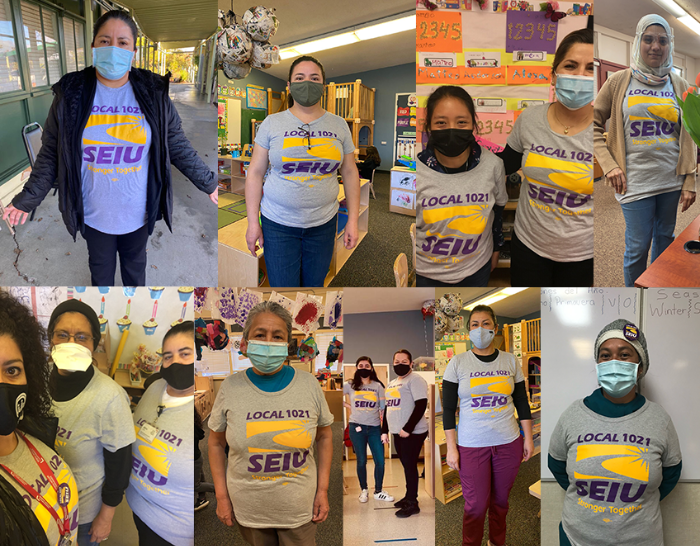 In November of last year, SEIU 1021 members at Community Action Marin sat down at the bargaining table to begin negotiations with management.

"We were worried about going into negotiations last year because of the impacts COVID has had on our workplace—it was very stressful. Our community really depends on us but we didn't know what was going to happen because of the pandemic. We did know how important it would be for us all to show our unity, though. During the course of negotiations, we wore our SEIU shirts and buttons to show our unity—I even wore a purple hijab to bargaining," said Najma Azam, an Associate Teacher at Community Action Marin and member of the SEIU 1021 bargaining team. "I used to be a person who was shy, quiet, and wouldn't usually speak up. Through all of this, I learned how important it is to stand up for your rights. We did the best that we could and I'm really proud of the whole team."

COVID had already presented new challenges in workplaces around Northern California, but our members were ready to fight for the agreement they deserve. In addition to wearing union stickers and shirts, workers also circulated petitions to support our bargaining team and fight back when management tried to pull our members working as site supervisors out of the bargaining unit. They made sure to keep everyone in the loop by holding general membership meetings almost weekly and also used management's own "town hall" meetings to speak up about their issues and send the message that they weren't going to back down.

On March 17, our team reached a tentative agreement with management, which was then ratified unanimously by members a week later. Highlights include a $15/hour minimum wage, a 4% cost of living adjustment (COLA) at ratification, 3% annual wage increases over the next three years, an increase in healthcare coverage, and protection from furlough.