Meet Donneva Reid – 2021 Convention Delegate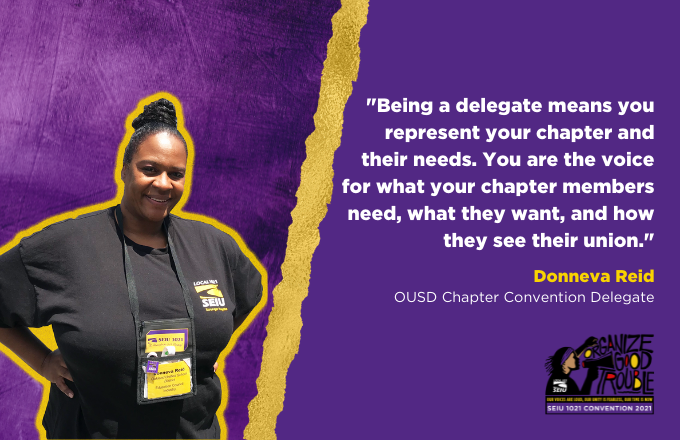 What is your title, organization, and chapter affiliation?
I work for Oakland Unified School District as an Accounting Clerk in the Facility Dept. I am also the First Vice President for the OUSD chapter.
Is this your first time as a chapter delegate for the convention?
This is my second time as a chapter delegate.
What was your experience as a first-time delegate?
My first time participating in the convention as a delegate was exciting. The convention I attended took place in Walnut Creek or Concord and it was great. I got to see all of the local come together to figure out and plan the direction of the union as far as where we are going as an org, what we want to stand for, and the fights that we were gearing up for. Delegates had a lot of input and we voted on the process and the plan to determine what direction the local would go in.
What inspired you to become a chapter delegate for a second time?
I believe it's important for us to all march in one direction. Being a delegate means you represent your chapter and their needs. You are the voice for what your chapter members need, what they want, and how they see their union. It's important to me to represent our people and bring back the resources and knowledge so members can feel like they are a part of the union.
Why do you believe members should get involved as delegates for their chapters?
Your vote counts and it's important. In counting your vote, you have to understand the issues and you get a better understanding of the issues by working with the members, having conversations, and in our chapter meetings, Being a delegate is fun but it's also a very serious position that should be taken seriously and with the utmost respect. As a delegate, you represent your chapter and the local, so your vote counts.
As a delegate, what impact do you hope to have at the convention?
I want to come back to my chapter with a better understanding of the union's goals so I can connect the dots for my chapter members. I want our members to feel like they have a connection with the local. So many times campaigns are happening and programs are put in place but there is no connection with the membership. I want people to see the link to what they are experiencing in life as far a housing, mental health, or their own empowerment then connect that to the resources that are available through SEIU 1021. Part of being a delegate is bringing the information back to empower the members who have questions and concerns. I want to be a conduit to connect the local with membership and deepen that bond between member and union.
What is your favorite memory from a past convention or the last convention you attended?
Part of the excitement is meeting your peers and sharing spaces where you can have conversations with people you don't normally meet every day. For me, the excitement is in the agenda and the speakers. When Reverend Barr and the Poor Peoples Campaign spoke at our convention, that was exciting and he was so empowering. His speech sparked up the whole convention center. I look forward to the speeches, rallies, and workshops. This is what gets me excited. Learning and absorbing everything that is going on then being able to take that back to my chapter is exciting.
What would you like to see in the virtual member convention this year?
I want folks to connect and to experience all that the convention has to offer like the workshops, lectures, and convening in the big room for the rallies and pep talks. It will be different because it's virtual but I hope the new delegates will understand that this is not a regular convention. This is a very important convention where your vote matters.