Medical Evaluations Assistants at SFGH deliver over 100 petition signatures to DHR calling for fair pay and treatment amidst increasing workloads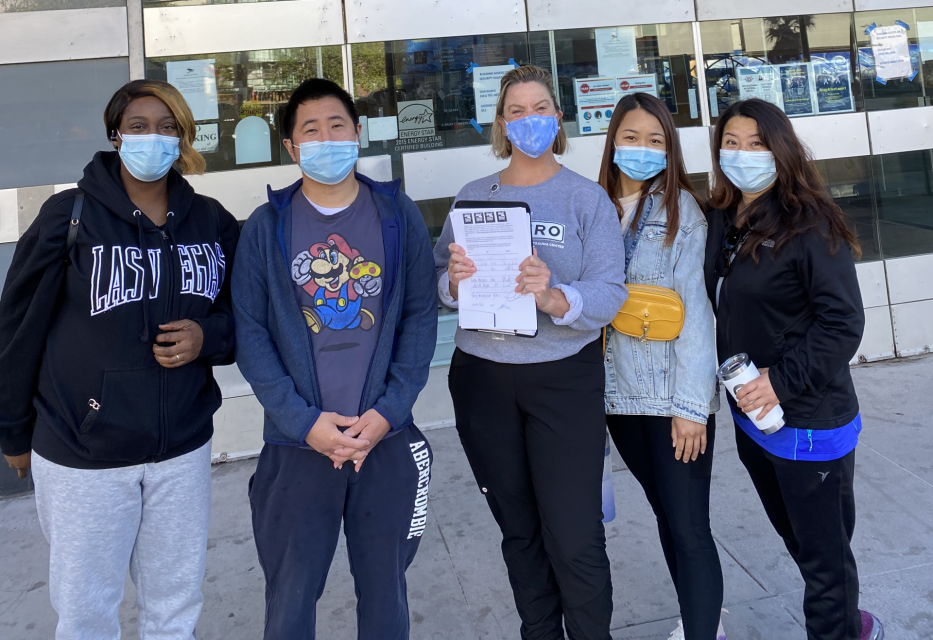 At San Francisco General Hospital, Medical Evaluations Assistants (MEAs) in the Emergency Department (ED) have been performing out of class work for more than 20 years. In 2004, an arbitrator awarded these workers with pay 5% differential for this out of class work, saying that, "as a remedy, the ED MEAs are entitled to out-of-class pay, retroactive to June 11, 2001, with interest, until they are no longer required to perform a substantial portion of the duties of the Nursing Assistant classification, or until the parties mutually agree upon the duties and compensation of the ED MEAs."
Over the past 16 years, MEAs have seen their work duties steadily increasing while their pay stayed the same, leading members to start organizing to demand that the City immediately start the meet and confer process with our union to determine fair duties and compensation. On June 7, they delivered hundreds of signatures on a petition to Carol Isen, Human Resources Director for the City and County of San Francisco, calling for that process to begin.
"MEAs are constantly being put into roles and situations outside of our job duties. We just have an endless list of things we are asked to do that are typically done by messengers, morgue attendants, PCAs, and more from bagging bodies, sterilizing instruments, doing CPR, or working as psych techs in the ED. We aren't allowed to say no to doing all of this extra work but we also aren't being paid for working out of classification," said Wendy Mitchell, an MEA at SFGH.
To Wendy, the issue presents a huge obstacle for hard-working MEAs who want to stay at the hospital and care for their community, particularly in light of the risks and challenges facing healthcare workers amidst the COVID-19 pandemic.
"I worked really hard to become to pursue this career—I don't take it lightly and I pour my heart and soul into it. I want to retire from here and I know my colleagues feel the same way. We aren't angry or trying to be spiteful, we just want to have a conversation with management and bring awareness to the unfair and unequal treatment we are receiving," explains Wendy. "We're in the hospital day in and day out—walking 17,000 steps per day, working 12-hour shifts, providing 24/7 care on weekdays and weekends. That's time away from our families and loved ones, missing holidays and life milestones. Maybe the executive team just sees us as 2430s in the budget, but we all work so hard. It took me 11 years working up to this role while raising three kids. We just want to be compensated fairly for all the hard work we do."