Localwide Treasurer Amos Eaton elected to SCERA Board, adding a third SEIU 1021 member to the retirement association's leadership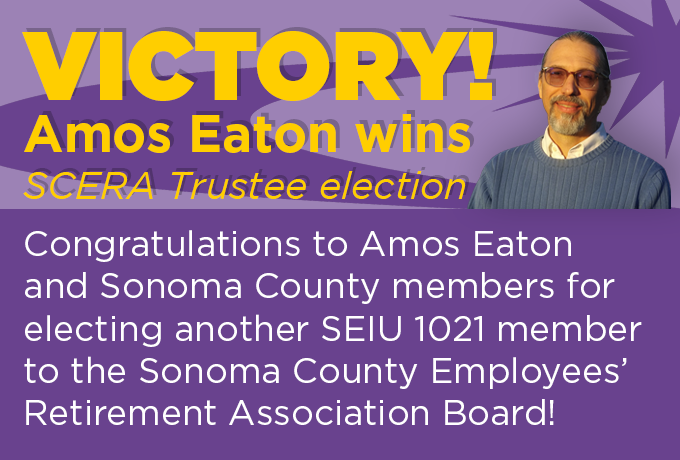 Congratulations to Sonoma County members, including our localwide Treasurer Amos Eaton who handily won his campaign for election to the Sonoma County Employees' Retirement Association (SCERA) Board last week!
The SCERA Board of Retirement is a nine-member Board, which oversees and manages investments for the County's pension fund. Four of the trustees are appointed by the Sonoma County Board of Supervisors, five are elected by SCERA's membership, and the County Treasurer is elected by the general public. Members in Sonoma County have now successfully elected three of our own members, as Amos will join Tim Tuscany and Travis Balzarini on the SCERA Board.
"This is really a victory for all of the workers contributing to the pension fund. SCERA Trustees are responsible for the stewardship of our retirement security. It's a tremendous responsibility and a role we need to fill with people who are going to speak up for the needs of current and future retirees. I'm proud to join Tim and Travis on the SCERA Retirement Board so we can continue the fight to grow our pension fund in socially conscious and responsible ways which benefit everyone. I'm committed to safeguarding our retirement security and amplifying the voice of County workers and retirees—not County management—in SCERA decision-making," said Amos.
Electing union members to our retirement boards should be a priority for Chapters everywhere. It gives us an opportunity to add proven leaders who will:
Fight to protect our hard-earned benefits and make sure they're there for us in retirement;
Oppose cuts to public employee pensions and work to create a Cost of Living Adjustment (COLA) to put more money into the pockets of retirees;
Invest our pension funds in ways that will generate strong financial returns and be mindful of positive social and environmental impacts.